Print Friendly Version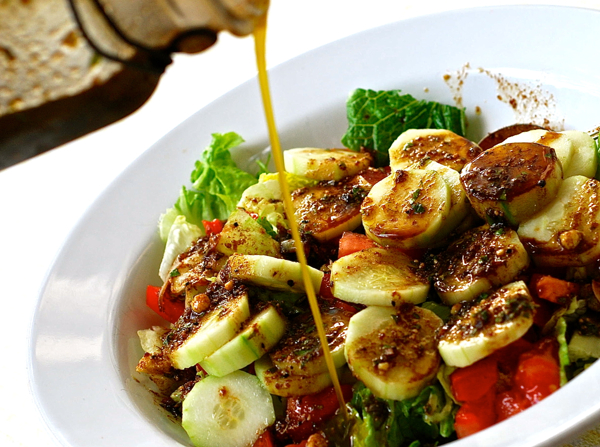 Who's ready for another homemade salad dressing? We make big salads almost every single day in our house, so I'm always inventing new combinations of ingredients and yummy dressings to drizzle over them. I've received several requests for the BEST Italian dressing. This is it. I've been making it this way for years and years. Hope you adore it as much as we do!
1/2 cup good quality balsamic vinegar
3/4 cup unfiltered extra virgin olive oil
1/3 cup grated Parmesan cheese
1 Tablespoon water
2 large cloves garlic, minced
4 Tablespoons finely grated onion + juice
1 Tablespoon honey or agave nectar
1 Tablespoon fresh parsley, finely chopped
1 Tablespoon fresh oregano, finely chopped
1 Tablespoon fresh basil, finely chopped
1 teaspoon fresh thyme leaves, finely chopped
1 teaspoon freshly ground black pepper
1 teaspoon oven roasted garlic powder
dash of red pepper flakes or 1/4 teaspoon cayenne
Combine all in a large canning jar. Cover tightly with lid. Shake well. Serve at room temperature. If you're making this in advance, refrigerate and then set it on the counter for an hour prior to serving so it can come back to room temperature.
Enjoy!
~Melissa
You may enjoy these related posts: