Print Friendly Version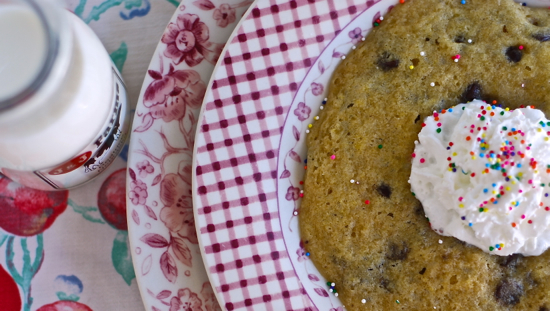 Who loves chocolate chip cookies? My daughter and her friend made up a batch of homemade chocolate chip cookie dough last weekend during a sleepover party. They were careful to measure everything just-so and went to put the cookies in the oven. Opened the oven that was suppose to be preheating…and it was cold. I had just baked a batch of caramel apple cherry bars and a whole chicken in there the day before, but wouldn't ya know it, our oven picked the exact wrong time to kick the bucket. I must say, that little Kenmore was a trooper. She was close to 20 years old. So instead of trying to fix her (again) we ordered a new oven this morning. Same oven, because I couldn't be happier with the value and performance of the last one.
Anyhoo, the girls were wondering how to make cookies with no oven… and the one minute microwave chocolate chip cookie was born. These cookies are SO yummy. I was kind of surprised. They come out soft, warm and "cakey" with ooey, gooey, warm chocolate chips. You make one big cookie and eat it with a fork. These would be the perfect base for a easy cookie sundae! Just top with a scoop of vanilla ice cream, a dollop of whipped cream and sprinkles!
for one cookie:
1/3 cup raw chocolate chip cookie dough
assorted toppings
Place the cookie dough on the center of a small, glass, microwave-safe plate. Flatten a bit and place in your microwave. Cook for 60 to 90 seconds. Remove from microwave and allow to sit for 15-30 seconds before topping and eating.
Enjoy!
~Melissa
You may enjoy these related posts: