Print Friendly Version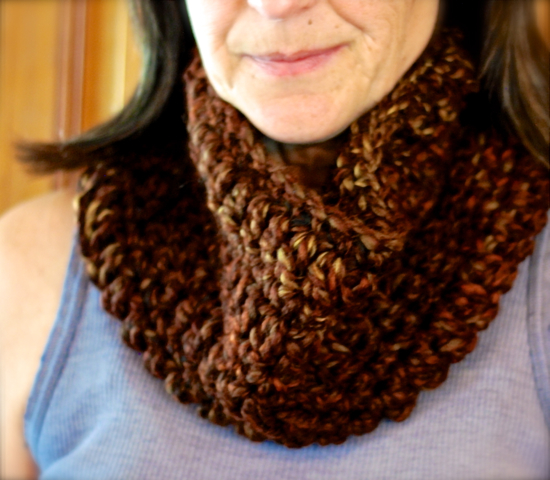 Happy Friday! I just got back from a lovely couple hours at my friend Clare's quilting studio. We shared a bottle of THIS, enjoyed Bavarian pretzels, cheese, crackers and red pears for a happy hour treat. Now I'm back home, hanging out with my family, and looking forward to a weekend balanced with a good combination of work and play…. and tonight I'm continuing the knitting/crocheting jag I've been on for the past week.
I love opening my craft armoire and finding my knitting needles, crochet hooks and yarn this time of year so I can get started on homemade gifts to add to my Christmas gift baskets. This year I'm making my friends THESE CROCHETED COWL scarves. (Click on the link for free pattern and instructions.) This one was crocheted using Lion Brand "Wool-Ease" Thick and Quick yarn in the color "Sequoia." This is a great little piece to help you get back in the groove if you haven't picked up your knitting basket all summer. I made the above cowl, that my friend Nancy so graciously agreed to model for in this photo, in about an hour.
Have fun! What are you working on?
~Melissa
You may enjoy these related posts: