Print Friendly Version
"My idea of heaven is a great big baked potato and someone to share it with."~Oprah Winfrey
I was flipping through Julia Child's "The French Chef Cookbook," and came across this recipe for Potatoes Anna. I have made this dish several times, but this recipe is the best. It calls for an oven set to 450 degrees. Some other recipes say only 425 degrees which is simply not hot enough. Compare and see for yourself 😉 I use Yukon Gold potatoes for this recipe. Potatoes Anna is a great side dish to serve with grilled steak and a fresh, green salad.
You'll need a 10 to 12 inch cast iron skillet with a tight fitting lid.
Preheat oven to 450. Set your oven racks on the two lowest positions in your oven.
Slice about 2 lbs. Yukon Gold potatoes to 1/16 of an inch thickness and dry each slice thoroughly with paper towels. Melt two sticks of butter in a small bowl and put a couple tablespoons of the melted butter in the bottom of the cast iron skillet. Begin arranging potato slices in the skillet in even rounds, overlapping slightly. Sprinkle each layer with a little salt and pepper, and a generous drizzle of butter. Fill the pan completely, allowing the potatoes to create a  dome in the center. Be sure to use all the butter, some of it will be poured off at the end of the cooking process to be used in another recipe if you wish.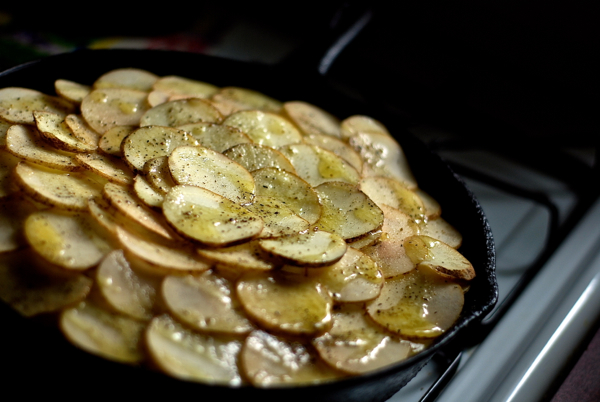 Press potatoes down with a heavy saucepan and set a tightly fitted cover over the pan. If you don't have a cover, you can use aluminum foil. Set a large cookie sheet on the bottom oven rack to catch any butter drippings, and set the covered skillet on the rack above it. Bake for 20 to 30 minutes. Remove cover, and bake for an additional 20 minutes. Drain out excess butter, which can be used again. Run a knife along the edge of the potatoes. Cut into wedges and serve immediately with sour cream and chives if you wish.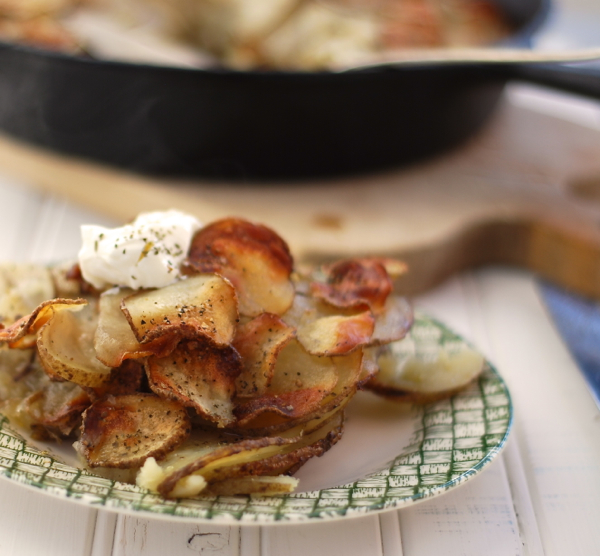 Enjoy!
~Melissa
You may enjoy these related posts: