Print Friendly Version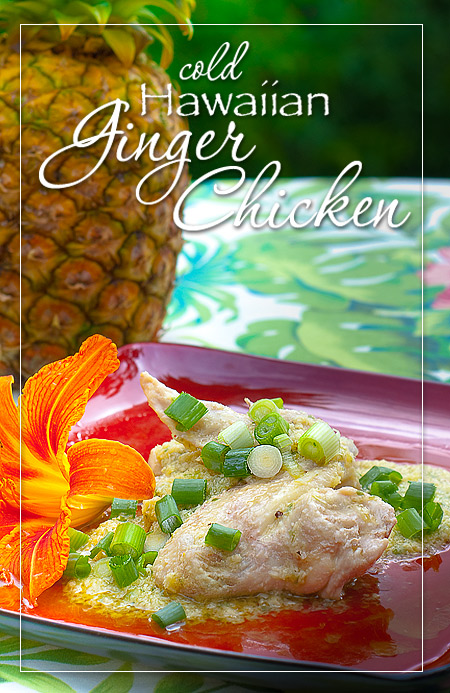 My brother-in-law, Mike, was stationed on Oahu for four years when he was in the Air Force. He has told Jeff and I stories about mountain biking through passion fruit groves and almost swooning from the intoxicating aroma of the fruit mixed with all of the other amazing scents you encounter when you're on a Hawaiian island. He likes mangoes too…hee hee. 'Nuff said 😉
Jeff and I planned a 10 day trip to Maui in 2003 and before we left we asked Mike if there was anything we needed to see or do while we were there. The only two things he said we HAD to do was go to "Cheeseburger in Paradise" and get a cold ginger chicken plate lunch. Well, we did get to see Cheeseburger in Paradise but, frankly, the 2 hour wait seemed a bit extreme for a cheeseburger. We scoured the island looking for the elusive cold ginger chicken plate lunch. A couple times we found places that served it, but they were always out. We never did have cold ginger chicken while on Maui, and I don't think I've ever been brave enough to tell Mike.

When we got home I looked for a recipe for cold ginger chicken plate lunch online and actually found a couple authentic Hawaiian recipes for this mouthwatering delicacy. After some tweaking, and about 20 batches I think I might make it better than the Hawaiians, of course it is impossible for me to know for sure. I've added a bit of vinegar and brown sugar to my recipe, which I think makes this once very good recipe absolutely fantastic.
We just had the privilege of spending the day with Jeff's dad Greg, his bro Mike and Mike's wife Robin this past weekend. They are the nicest people you will ever meet, and we can't wait to see them again. Already trying to coordinate a trip out to Spokane to visit!
Although you do have to be a ginger fan to enjoy this, don't worry about the whopping two CUPS of ginger that the recipe calls for. Something magical happens when you mix the pureed ginger with the olive oil.
Cold Ginger Chicken–
Rub 2 fryer chickens (skin on) with a generous amount of kosher salt (about 1/2 cup)
peel of two tangerines or limes
Allow chicken to chill in fridge with the salt rub for 2 to 24 hours. Boil with citrus peel until just done.
Cool on counter. Cover and chill in refrigerator until completely cold.
Sauce:
2 cups fresh ginger, peeled and chopped
8 stalks green onion plus tops, chopped
4 cloves garlic
3 cups extra virgin olive oil (or a combination of EVOO and peanut oil)
6 Tablespoons white vinegar
1/2 cup brown sugar
2 teaspoons salt
Puree in food processor until smooth. Chill completely. When ready to serve, plate the chicken and top with the sauce. Garnish with extra chopped green onion if desired.
Enjoy!
Aloha!
~Melissa
You may enjoy these related posts: