Print Friendly Version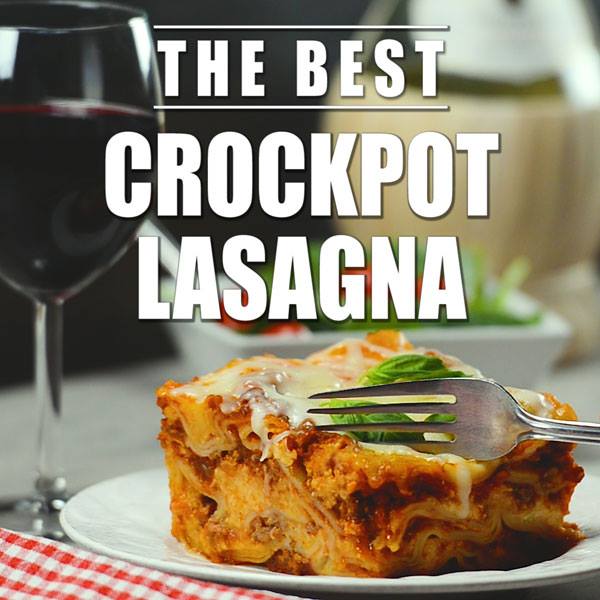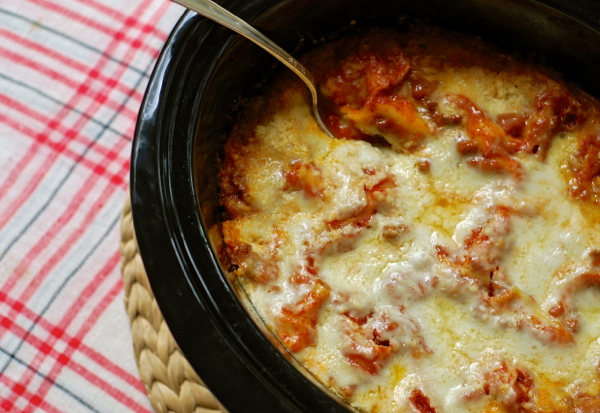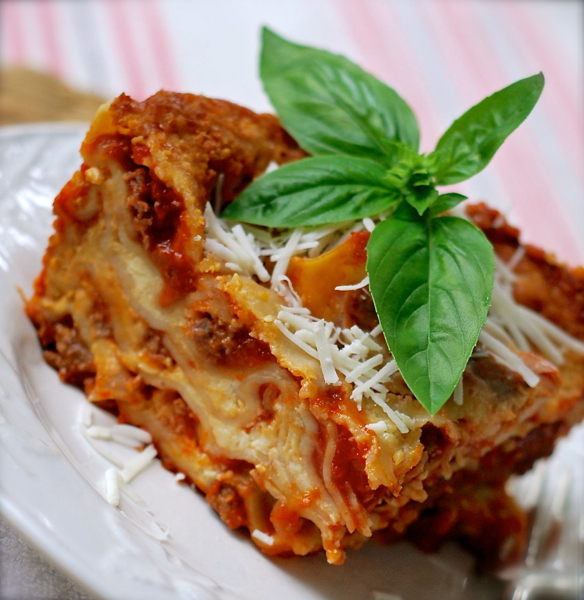 I've been making lots of Crock Pot dinners this summer. I love how slow cookers allow me to create hearty meals without heating up the kitchen. This slow cooker lasagna is so unbelievably good. It calls for minimal ingredients, it's easy to prepare, and your family will love it. I think it just might be my best lasagna yet!
serves 6 to 8 people
1 lb. lean ground beef
1 large onion, chopped
36 to 45 oz. spaghetti sauce (depending on how much sauce you like)
1 teaspoon garlic powder
1 teaspoon onion powder
4-5 cups shredded Mozzarella cheese
3/4 cup grated Parmesan cheese
2 cups cottage cheese
1 Tablespoons vegetable oil (for greasing slow cooker crock)
7 to 8 oz. oven-ready lasagna noodles (uncooked)
fresh basil for garnish (optional)
Brown beef and onion in a big skillet. Drain any excess grease. Stir in spaghetti sauce. Remove from heat and set aside.
In a mixing bowl, combine 3 cups of the Mozzarella, 1/2 cup of the Parmesan, all of the cottage cheese, garlic powder and onion powder. Mix well.
Rub inside of a 6 to 7 quart Crock Pot with the vegetable oil. Don't use butter or olive oil for this or it will burn.
Place 1/4 of the meat mixture in the bottom of the prepared Crock Pot. Place 1/3 of the noodles over the sauce, breaking to make them fit as needed. Spoon 1/3 of the cheese mixture over the noodles. Repeat layers 2 more times. Spread remaining meat sauce over the top. Sprinkle the remaining Mozzarella and Parmesan over the meat sauce.
Cover and cook on the LOW setting for 4 hours, or until you can see that the lasagna is bubbling around the edges and feel that the noodles are tender when you poke them with a fork.
Turn off slow cooker. Uncover lasagna and allow it to sit for 15 minutes prior to cutting and serving. Plate and garnish with fresh basil springs.
Enjoy!
~Melissa
Save
You may enjoy these related posts: