Print Friendly Version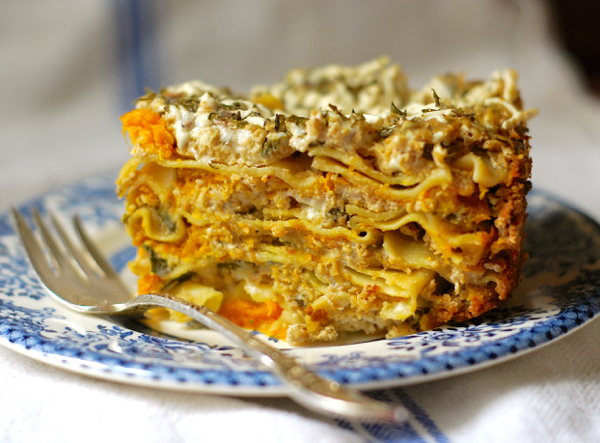 Crock Pot lasagnas have become a staple in our home. They're so easy to prepare, and there are so many different ways you can make them. So far I've featured Classic Italian Crock Pot Lasagna, Vegan Crock Pot Lasagna, and Chicken Alfredo Crock Pot Lasagna. They're all wonderful and can be modified for both vegan and gluten free diets with a few tweaks here and there.
This creamy Crock Pot Butternut Squash Lasagna is my new favorite. It's slightly sweet from the squash, garlicky, and the cashew cream brings everything together in this perfect, simple, comfort food dish. Oh, and it's vegan!
3 cups cooked, pureed butternut squash
3 large garlic cloves, minced
1/4 teaspoon nutmeg
sea salt and freshly ground black pepper, to taste
2 cups cashew cream cheese OR store-bought vegan cream cheese
large handful fresh spinach, chopped
2 teaspoons onion powder
2 Tablespoons oregano
7 oz. crumbled, firm tofu
8 oz. shredded vegan Mozzarella cheese
1/4 cup nutritional yeast
12 lasagna noodles (any type)
Grease a 6 to 7 quart Crock Pot with vegetable oil (don't use olive oil or it will burn.)
Combine the butternut squash puree with the minced garlic, nutmeg, salt and pepper. Set aside.
Combine the cashew cream/cream cheese, spinach, onion powder, oregano, tofu, 3/4 package of the Mozzarella cheese, and nutritional yeast. Set aside.
In the bottom of the Crock Pot spread 1/3 of the squash mixture in an even layer. Top with a layer of the noodles, breaking as needed. Place another layer of squash on top of the noodle layer, followed by 1/3 of the cashew cream cheese, another noodle layer, squash, cashew cream, noodles, squash, cashew cream, and finally the remaining 1/4 package of Mozzarella.
Cover and turn Crock Pot to the LOW setting for 4 hours. Lasagna is done when completely heated through and the cheese is all melted.
Tip: For beautiful, layered slices (as seen in the photo above) allow lasagna to cool completely, place in refrigerator overnight, and slice the next morning. This lasagna will reheat beautifully in the microwave.
Of course, you can serve this immediately if you wish.
Enjoy!
~Melissa

You may enjoy these related posts: