Print Friendly Version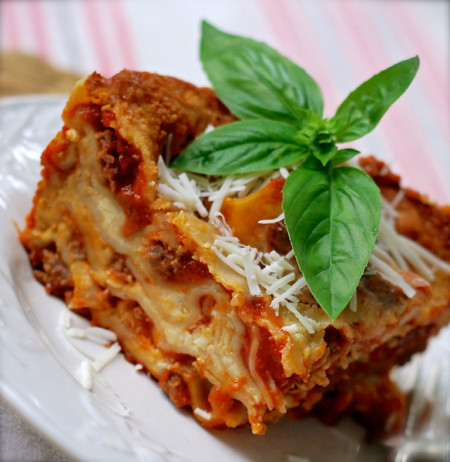 I made lasagnas for our Christmas dinner this year and decided to create a recipe for the perfect vegan lasagna. This is truly unbelievable and even creamier and cheesier than my original Crock Pot Lasagna! And, it's ridiculously easy to prepare. Your Crock Pot will cook it to perfection every time.
You can make up a batch of cashew cream cheese (recipe below) or use already made, store bought, vegan cream cheese. YUMMY!
1 large onion, chopped
2 Tablespoons olive oil
2 (26 oz.) jars of your favorite spaghetti sauce
1 package Gardein beefless crumbles

8 to 12 oven-ready lasagna noodles (I use Barilla)
1 and 1/2 cups vegan cream cheese or cashew cream cheese
7 oz. extra firm tofu, drained well, patted dry, and crumbled
2 teaspoons garlic powder
2 teaspoons onion powder
1/2 cup nutritional yeast
5 cups shredded vegan Mozzarella cheese (I used Daiya)
2 Tablespoons dried oregano, divided
2 teaspoons sea salt
Brown onion in olive oil until tender and slightly golden. Add beefless crumbles and cook just until crumbles are thawed. Add the 1 and 1/2 jars of sauce. Mix well. Remove from heat. Set aside.
In a large mixing bowl, combine the cream cheese, tofu, garlic powder, onion powder, nutritional yeast, 3 cups of the Mozzarella, 1 Tablespoon of the oregano, and the salt. Mix well. Set aside.
Oil the crock of a 6 to 7 quart slow cooker (don't use olive oil or it will burn.) I use canola oil or vegetable oil.
Layer 1/4 of the spaghetti sauce mixture, a layer of noodles (you'll need to break some of them so they fit), and 1/3 of the cheese mixture. Repeat this twice, ending with the remaining half jar of spaghetti sauce, and the rest of the Mozzarella. Sprinkle the remaining Tablespoon of oregano over the top. Cover Crock Pot and cook on HIGH for 1 hour, and LOW for 2 and 1/2 to 3 hours. Lasagna is done when it's bubbly, hot all the way through, and the lasagna noodles are very tender.
I usually make this a day in advance and refrigerate it overnight so the flavors can marry, and so I can get perfect slices when I cut into it. Just reheat slices for a few minutes in your microwave or pizza oven.
For the homemade cashew cream cheese (if using instead of store bought):
2 cups cashews, soaked overnight and drained
1/3 cup to 1/2 cup warm water
2 Tablespoons fresh lemon juice or apple cider vinegar
1/3 cup nutritional yeast
salt to taste
Place all ingredients in the bowl of a blender and pulse until very creamy and smooth. Scrape down sides of blender bowl as you go. Be patient, this will take some doing if you don't have a high speed blender. Use as you would ricotta, cream cheese, or sour cream in your favorite recipes.

Enjoy!
~ Melissa

You may enjoy these related posts: