Print Friendly Version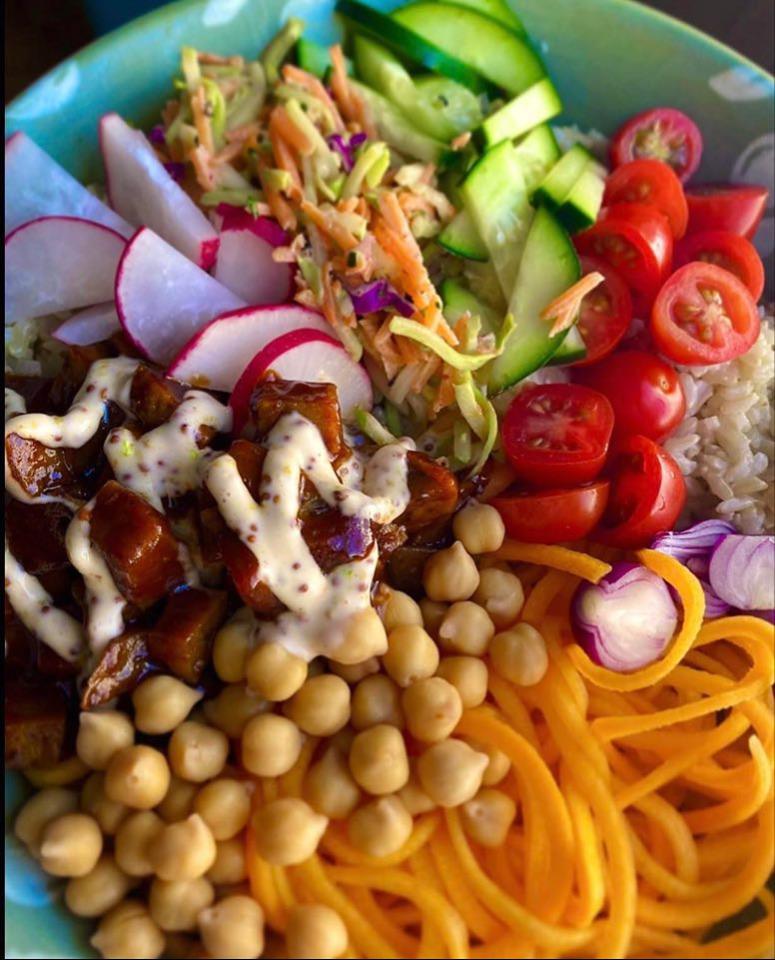 Hello, Friends!
Here's another amazing vegan protein power bowl for you. This is so delicious and perfect for lunch or dinner. It's easy to pack for lunches when you'll be away from home. The vegan "steak" can be served warm or cold, but I do enjoy it more when it's warm. (Make the "steak" in advance. You'll find the recipe by clicking on the link below.)
Feel free to use as much or as little of each ingredient as you like. I just included measurements as a guideline. Also, feel free to substitute anything you don't have with something else. Almost all veggies taste great together.
For one power bowl:
1/2 cup (or more) vegan steak, cut into cubes and coated in BBQ sauce, hot or cold
1/3 cup canned chickpeas, drained and rinsed
spiralized sweet potato or carrot, steamed until tender (or raw if using carrot)
chopped red onion or green onion
1/2 cup cooked brown rice, warm or cold
1/4 cup sliced cherry or grape tomatoes
1/4 cup sliced cucumber, cut into bite bite size pieces
1/4 cup vegan coleslaw
1/4 cup sliced radishes
Use your favorite vegan salad dressing (I just mixed grainy dijon mustard with a little vegan mayonnaise and pure maple syrup) Drizzle it over the whole bowl and serve.
Enjoy!
~Melissa
You may enjoy these related posts: