Print Friendly Version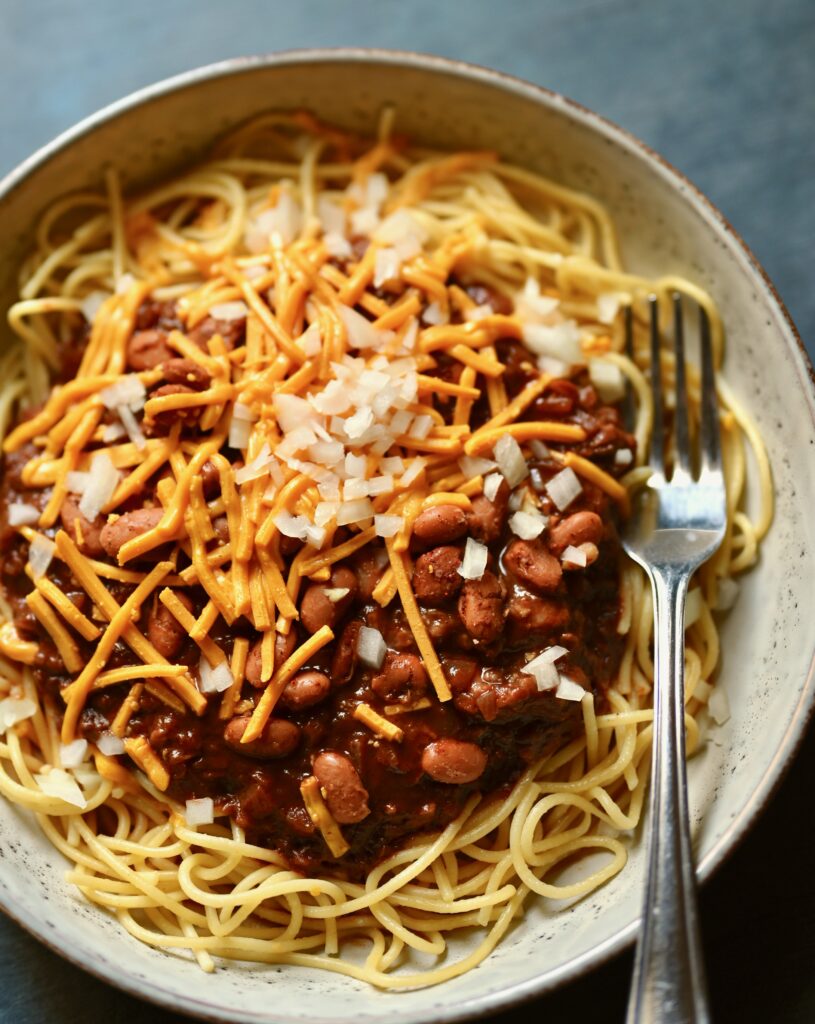 Every Halloween, which is also my husband's birthday, I make a big batch of homemade Skyline Chili. Skyline Chili (also known as Cincinnati-style chili) is unlike any other chili you've ever experienced. Other Cincinnati-style chili restaurants go by the names Gold Star and Empress. It's unique blend of spices and other ingredients are a taste sensation. Once you try it, you'll start craving it.
Skyline Chili is served over spaghetti noodles. There are no crushed tomatoes or chili powder in this dish. The Worcestershire sauce, apple cider vinegar (not white), cloves, cumin, unsweetened chocolate and cayenne pepper are all essential to the recipe as are the measurements of onion and garlic. This recipe can be doubled or tripled and freezes beautifully.
This time I made a vegan version. I'll be honest, I was a little nervous about it. Substituting Beyond Meat for beef had it's challenges. Usually you start the recipe by adding raw ground beef to the boiling water. Beyond Meat can't be cooked that long, so I had to sautee it and add it at the very end. Would it taste the same? I'm happy to report that YES, it does. And to be honest, I think it's even better!
Don't buy the frozen Beyond Meat Crumbles for this. Either buy the block of Beyond Meat that looks like a pound of hamburger, or get Beyond Burger patties. The frozen crumbles just aren't very good. I have no idea how an amazing company like Beyond would attach their names to the crumbles.
Anyhoo…
This is one of our favorite meals, and chili is a great way to welcome autumn. I hope you enjoy this unusual dish as much as we do!
Here's how ya make it!
2 Tablespoons vegan butter (we use organic Earth Balance)
2 medium onions, chopped fine
5 cloves of garlic, minced
15 oz. tomato sauce
2 Tablespoons apple cider vinegar
3 Tablespoons vegan Worcestershire sauce
1 teaspoon allspice
1/4 teaspoon ground cloves
2 teaspoons salt
1/4 teaspoon freshly ground black pepper
2 teaspoons cinnamon
1 teaspoon cumin
1/2 to 1 teaspoon cayenne pepper
2 and 1/2 Tablespoons unsweetened cocoa powder
3 cups water, to thin the sauce
2 bay leaves
2 lb. Beyond Meat
Heat the vegan butter in a big soup pot. Once melted and hot, add the onion. Saute for 5 to 7 minutes until tender and translucent. Add the garlic and the allspice, cloves, salt, pepper, cinnamon, cumin, and cayenne pepper. Cook 30 seconds to a minute, until fragrant. Now add the tomato sauce, vinegar, Worcestershire sauce, cocoa powder, and water. Whisk to break down the solids. Add bay leaves and simmer on low, stirring frequently, for an hour. This will help all the flavors to marry, and the chili a chance to thicken up a bit. Skyline chili is not a thick chili, but a bit thinner than what you're probably used to.
When the sauce is almost done, saute the Beyond meat until hot all the way through and slightly golden. Don't overcook it! It's not meat! You just have to make sure it's hot. Don't drain it.
Add it to the sauce. Serve chili over spaghetti noodles that have been cooked "al dente."
Here are the classic Cincinnati Chili combinations:
Two Way:
spaghetti and chili
Three Way:
spaghetti, chili, and grated cheddar cheese
Four Way:
spaghetti, chili, grated cheddar cheese, and chopped onion
Five Way:
spaghetti, chili, grated cheddar, chopped onion and red kidney beans
*note-we prefer chili beans to kidney beans, so we use those instead
Enjoy!
~Melissa
You may enjoy these related posts: