Print Friendly Version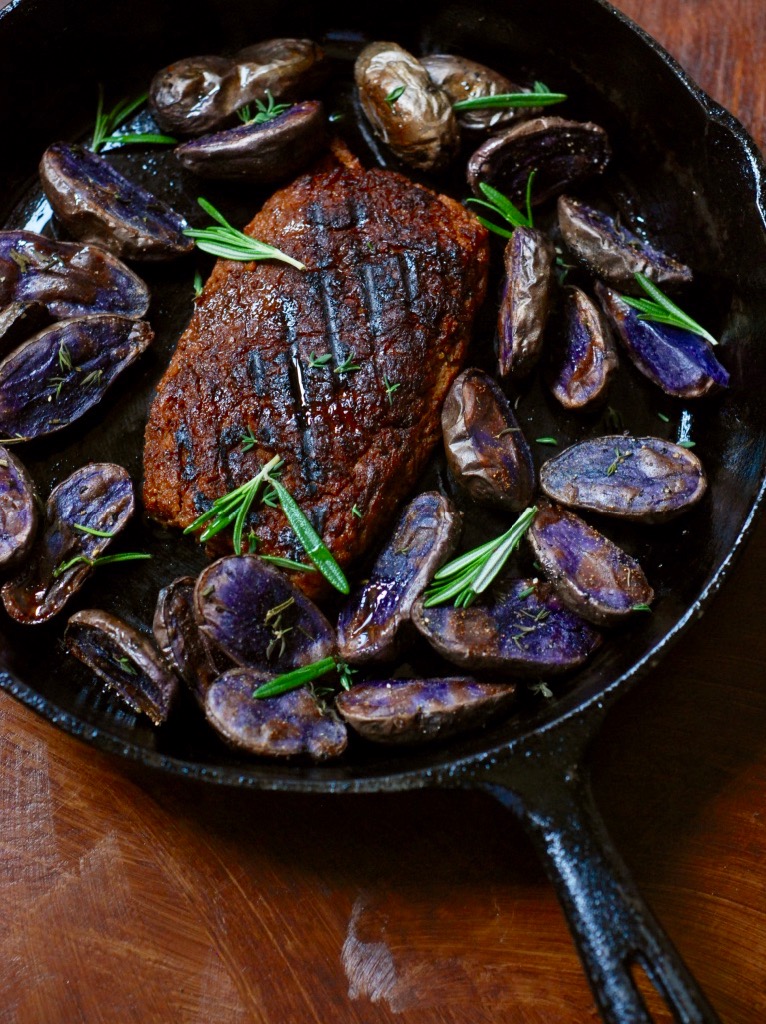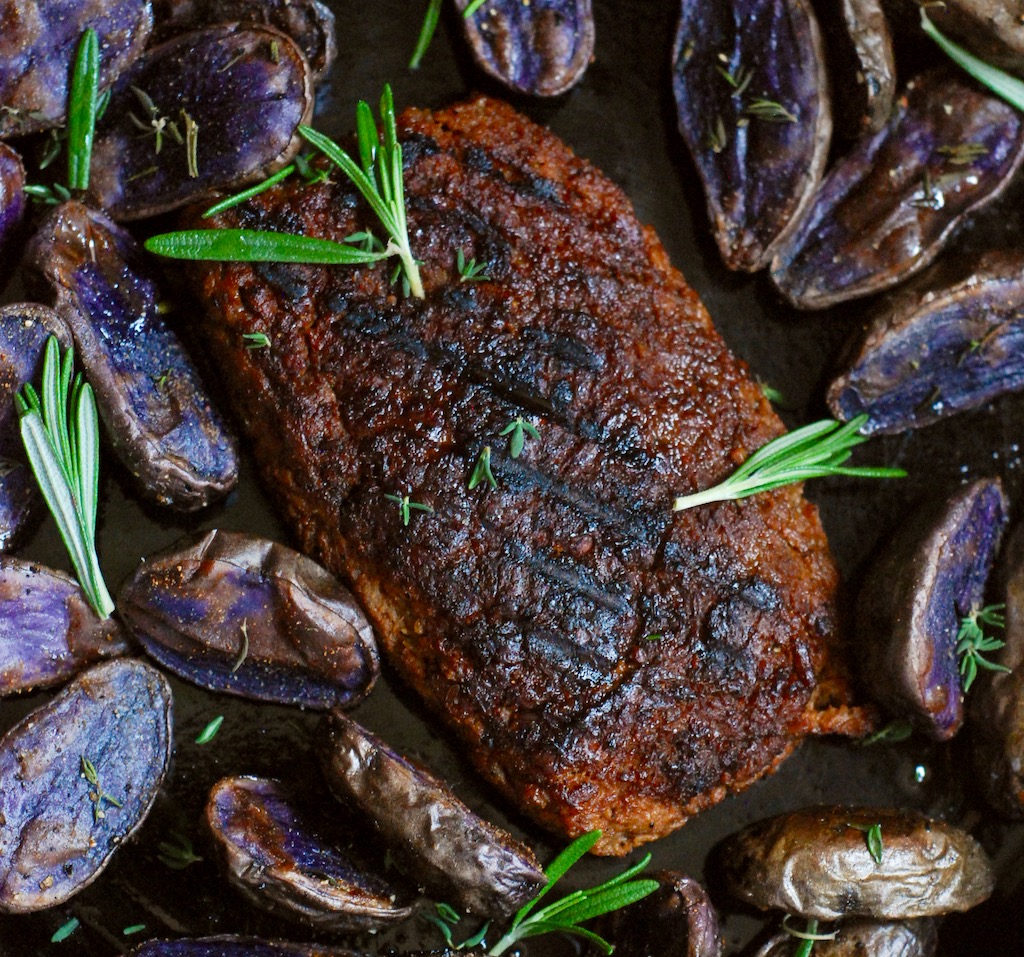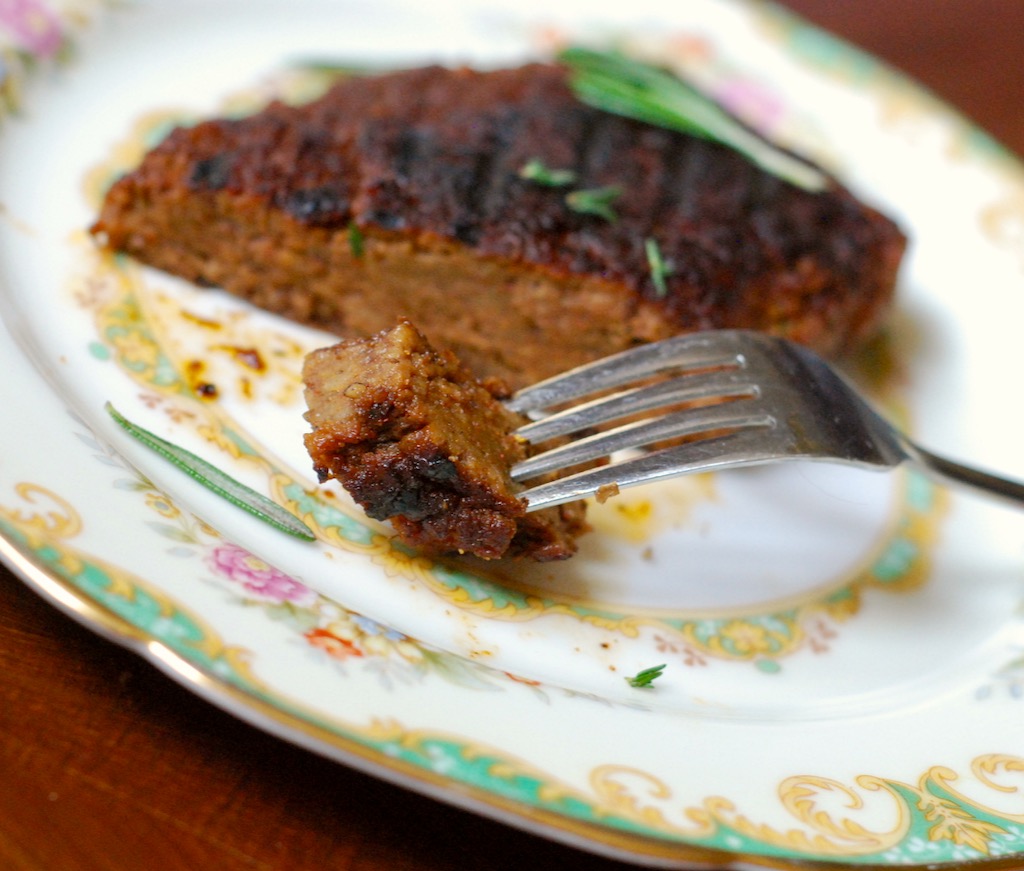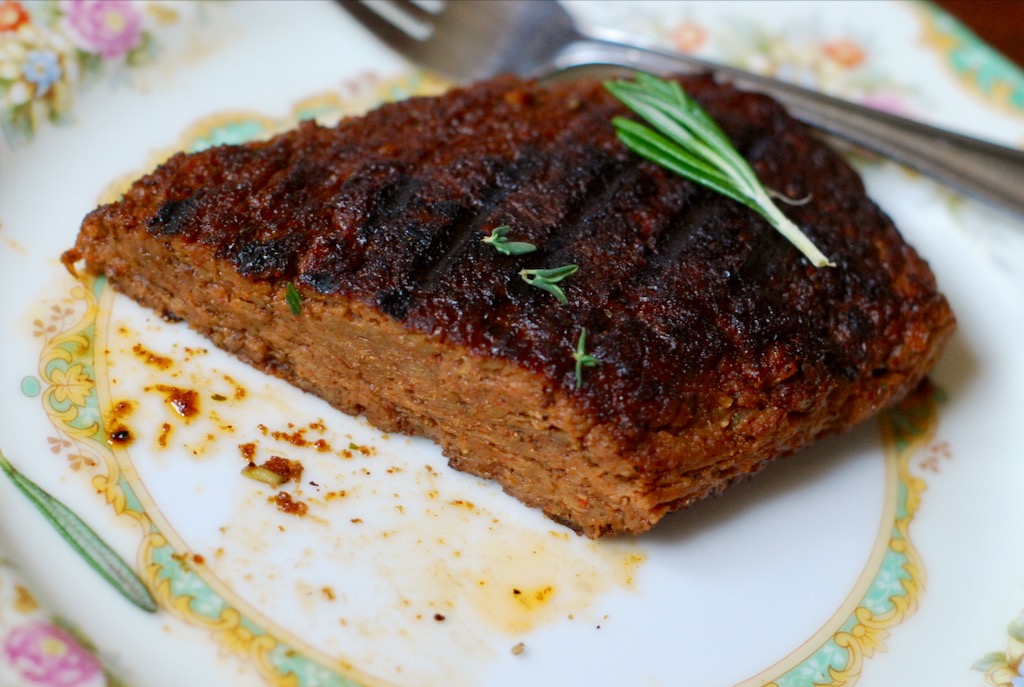 It's that time of year again! Everyone is headed outside to the grill to cook up dinner. If you're vegan there's no need to feel left out. With delicious choices like Beyond Burgers, Beyond Bratwurst, Beyond Italian Sausage, polenta, homemade veggie burgers, grill-wok veggies, big portobello mushroom caps, tofu, veggie kabobs, and now… vegan steak, you can have fun firing up the grill and eating al fresco too.
Say what? Vegan steak? You may be asking how that's even possible. I was skeptical too. But this is truly amazing.
I'm not going to lie and say it tastes exactly like beef. It doesn't. It tastes pretty close. I actually like more, and that's the truth. It's super tender, flavorful, and delicious served with your favorite steak sauce. My favorite used to be Heinz 57, and my homemade steak sauce is a riff on that. I make mine because it's much healthier (less sodium and no high fructose corn syrup), and it's vegan. The original Heinz 57 contains anchovies. I promise, you won't miss the tiny dead fish at all. lol
If you don't feel like grilling, or if it's rainy outside but you can't wait another minute to make these and give them a whirl, you can easily fry these in a cast iron skillet or grill pan. Remember to just cook them until they're browned and hot all the way through. You don't have to cook them as long as you do meat. Another bonus. Yay!
Okay, enough already. Let's get to the recipe.
makes 3 big steaks:
1 cup vital wheat gluten
3/4 cup cooked lentils, any type (I used canned, brown lentils)
2 heaping Tablespoons nutritional yeast
2 Tablespoons tomato paste
1 Tablespoon garlic powder
1 Tablespoon onion powder
1 Tablespoon chili powder OR smoked paprika
1 Tablespoon soy sauce, tamari, or liquid aminos
1/2 teaspoon liquid smoke
1/2 teaspoon sea salt
1/2 teaspoon freshly ground black pepper
6 Tablespoons water
Place all ingredients in a large food processor. Pulse to combine, scraping down the sides of the bowl as needed. Transfer to a large cutting board, or other clean work surface, and knead for two minutes. Firmly form into a ball.
Roll into an oblong oval shape. Cut into 3 even slices so they're all roughly the same size. Roll each steak with a rolling pin until it's about 1/3 inch thick. Place a little piece of cooking parchment between the steaks and place a plate on top of them. Weigh down the plate and allow steaks to press for 20 minutes.
While the steaks are pressing, start a large pot of salted water boiling. Once the pressing time is up, carefully add the steaks to the water and then lower to a gentle simmer. It's important that the steaks aren't cooking in water that is heavily boiling because it can mess with the texture of your finished product.
Allow steaks to gently simmer for 25 minutes. Once done, remove them and place them on cooling racks set over a tray or plate. Let them drain for 5 minutes.
While they drain, prepare the marinade.
For the marinade:
Place the following ingredients in a large Ziploc bag…
2 Tablespoons olive oil
1 Tablespoon soy sauce or vegan Worcestershire sauce
1 Tablespoon pure maple syrup
1 teaspoon steak seasoning (make sure it's vegan)
2 teaspoons original blend Mrs. Dash seasoning
1 teaspoon paprika
1 teaspoon onion powder
Once the steaks are done draining place them in the bag with the marinade and remove as much air from the bag as possible. Gently smoosh the marinade around the steaks so they're evenly coated. Allow to marinate for 20 minutes on the counter, or up to two or three days in the fridge before cooking, if you wish.
When you're ready to grill the steaks, remove them from marinade and grill them on a charcoal grill over medium heat, or in a grill pan for about 2 to 3 minutes per side. Brush the extra marinade on the steaks as they cook. They're done when they're hot all the way through.
Serve with little, purple, oven-roasted, rosemary thyme potatoes (as pictured above), or you favorite steak fries! I just tossed the little potatoes in some olive oil, salt, pepper, and the fresh chopped herbs and roasted them at 425 degrees F. for about 20 to 30 minutes, until very tender.
Dip bites of steak in steak sauce, peanut sauce, creamy horseradish, teriyaki, BBQ… whatever you like!
Enjoy!
~Melissa
You may enjoy these related posts: