Print Friendly Version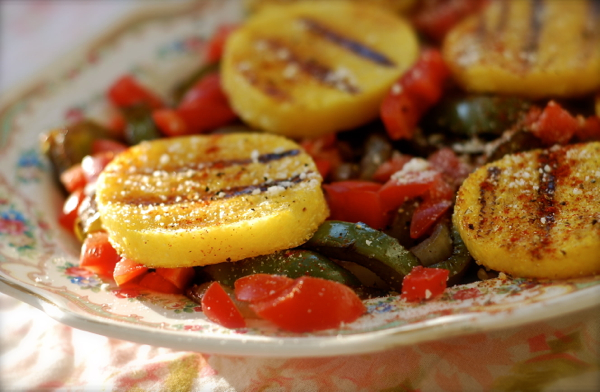 This is such a delicious side dish and so easy to make if you already have the grill fired up. Just purchase a tube of already made polenta (we like Trader Joe's brand) and you're half way done!
1 tube pre-made polenta, sliced into cakes
olive oil for brushing cakes and sauteeing veggies
1 and 1/2 large, tri-color bell peppers, seeds removed, sliced
1 large onion, peeled and sliced
salt and pepper to taste
Slice polenta and brush with olive oil. Place on medium-hot grill and cook approximately 1 minute on each side, or until hot and golden on each side.
Heat 1 Tablespoon olive oil in a skillet. Saute the sliced peppers and onion until tender, translucent and slightly browned. Serve polenta cakes over veggies. Salt and pepper to taste.
Enjoy!
~Melissa
You may enjoy these related posts: