Print Friendly Version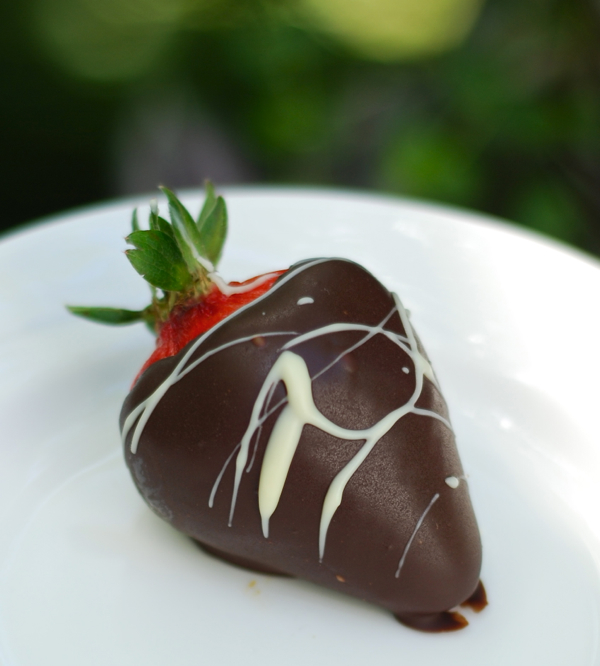 Are you ready to make the easiest chocolate covered strawberries ever? You can use both semi-sweet chocolate and white chocolate for these if you wish. The white chocolate drizzle adds another step and makes the berries so pretty, but if you want SUPER easy, just omit that step. I always use Nestle chocolate chips for these gorgeous berries. They're delicious, and work better than any other chocolate I've ever tried for this specific recipe. I'm not being paid to say this, it's just a fact. Use another brand of chocolate at your own risk 😉
1 lb. fresh, perfectly ripe strawberries
6 oz. semi-sweet chocolate chips (I use Nestle)
3 oz. white chocolate chips (I use Nestle)
Gently wash berries and blot them dry with paper towels. Lay a long length of wax paper over your counter top.
Melt the semi sweet chocolate chips in the microwave in a microwave safe bowl. Set the timer for 15 seconds. Check, stir and repeat just until all chips are melted.
Holding onto the green part of the strawberry, dip them in the chocolate so you coat most of the berry and leave a little of the red part showing. Lay the strawberries on the wax paper as you work. Once all berries are coated with the semi sweet chocolate, allow them to set for about an hour.
If you  wish to do the white chocolate drizzle, melt the white chocolate chips in a microwave safe bowl the same way you did the semi-sweet chocolate. Using a spoon, drizzle the white chocolate over the berries in a random pattern.
Allow berries to completely set and dry before serving. They're best served the same day they're made.
Enjoy!
~Melissa
You may enjoy these related posts: