Print Friendly Version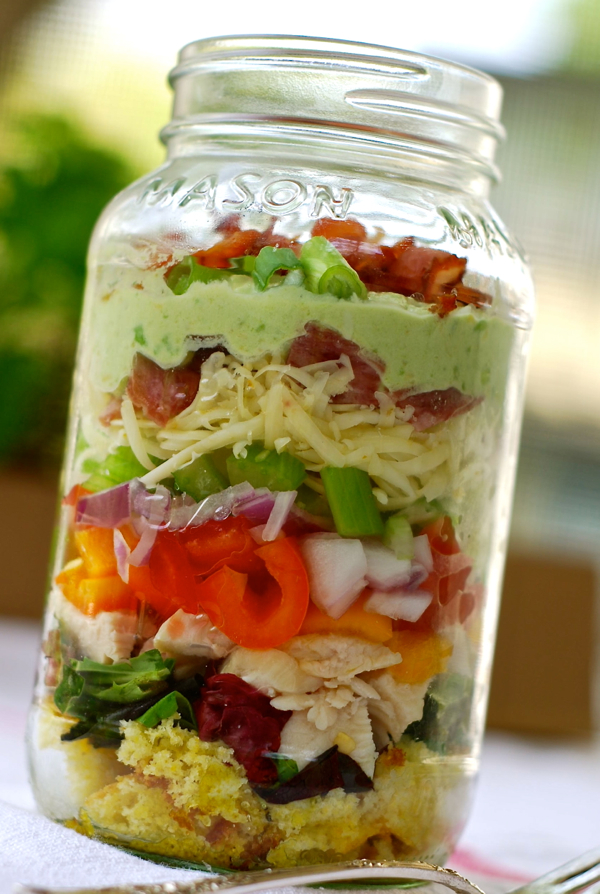 Here's my first post about salad in a mason jar! I'm working on a series that will include about 40 different meals and desserts in mason jars (approximately 15 of these will be salads.) I'm so excited to get started and to share these yummy, easy recipes with you!
Mason jars are wonderful for when you want to pack a picnic and bring it to the park or beach. They're also great for transporting fresh foods on long road trips. They're adorable, environmentally friendly, and make clean up a breeze. Ready? I hope you enjoy these treats as much as I do.
First up: Classic Layered Salad. YUMMMM!
for 4 servings:
4 (25 oz.) Mason jars
2 cups crumbled corn bread muffins
2 Tablespoons honey
2 cups spring greens
1/3 cup Italian dressing or balsamic vinaigrette (divided)
1 large chicken breast, grilled and cut into chunks (approx. 1 and 1/2 cups)
1/2 cup yellow and orange bell pepper, chopped
2 Roma tomatoes, seeded and chopped
1/2 cup red onion, chopped
1/4 cup celery, chopped
1/4 cup cucumber, seeded and chopped
Italian dressing or balsamic vinaigrette
a sprinkle of salt and pepper
2 cups grated Monterey Jack cheese
8 slices salami, chopped
1 mashed avocado + juice of 1/2 lemon + 4 oz. sour cream (mix together 'til smooth)
6 pieces of bacon, fried, cooled and crumbled
2 green onions + green tops, chopped
Divide the ingredients between the 4 (25 oz.) canning jars, layering in the order given, starting with the corn bread and building up from there. Don't use all of the Italian dressing/vinaigrette in the first drizzle… You'll notice that I list it twice, so divide it accordingly. You may have to gently tamp the ingredients down as you go to get everything into the jars. You'll want a little head space so when it comes time to stir those delicious ingredients together, you'll have room.
Once everything is in the jars, cover tightly and refrigerate until you're ready to eat. If you're transporting these salads to a picnic destination, or on a road trip, simply push the jars down into ice in your cooler. Eat these salads within 24 hours of making them.
Enjoy!
~Melissa
You may enjoy these related posts: