Print Friendly Version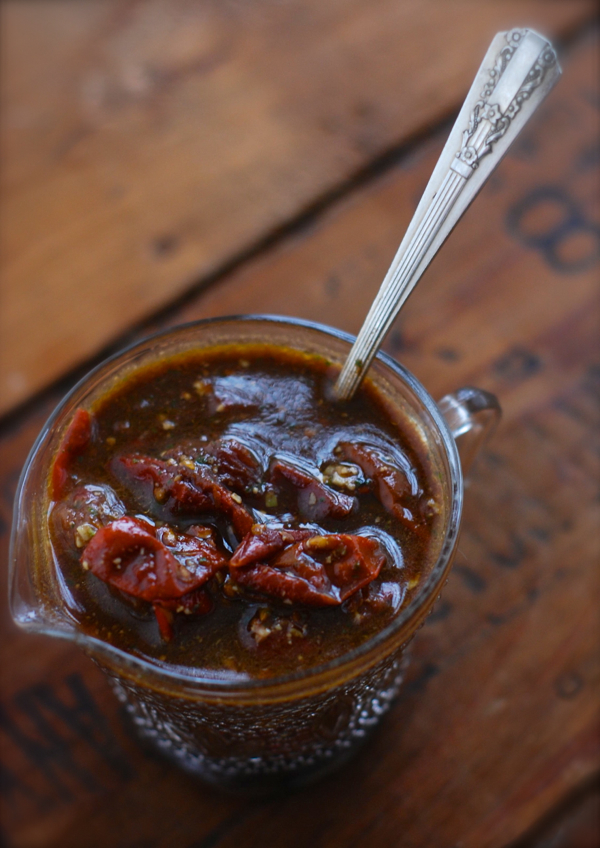 Oohhhh! Are you ready for another delicious, easy, homemade salad dressing recipe? This one is bursting with the flavors of fresh tomatoes and basil pesto. Sooooo yummy and so good for you.
~ preheat oven to 425 degrees F. ~
1 pint grape or cherry tomatoes
1 Tablespoon extra virgin olive oil
1/4 cup balsamic vinegar
1/4 cup homemade basil pesto
1 teaspoon Dijon mustard
1 Tablespoon sugar, honey or agave nectar
salt and pepper to taste
Toss the tomatoes with the olive oil in a medium mixing bowl. Transfer to a parchment-lined baking pan with a lip on it (such as a jellyroll pan.) Place in preheated oven and cook just until the tomatoes burst (10 to 15 minutes.) Remove from oven and place the tomatoes, along with their juices, back in the mixing bowl. Add: balsamic vinegar, pesto, mustard and sugar. Mash the tomatoes with a large fork and mix everything together. Add salt and pepper to taste, and add a little more sugar if necessary, to balance the acidity of the dressing. Transfer to a pretty serving cruet, pitcher or canning jar. This will keep in your refrigerator, covered, for one week. If you refrigerate the dressing prior to serving, allow it to sit on your counter and come to room temperature for one hour before topping your salad.
Enjoy!
~Melissa
You may enjoy these related posts: