Print Friendly Version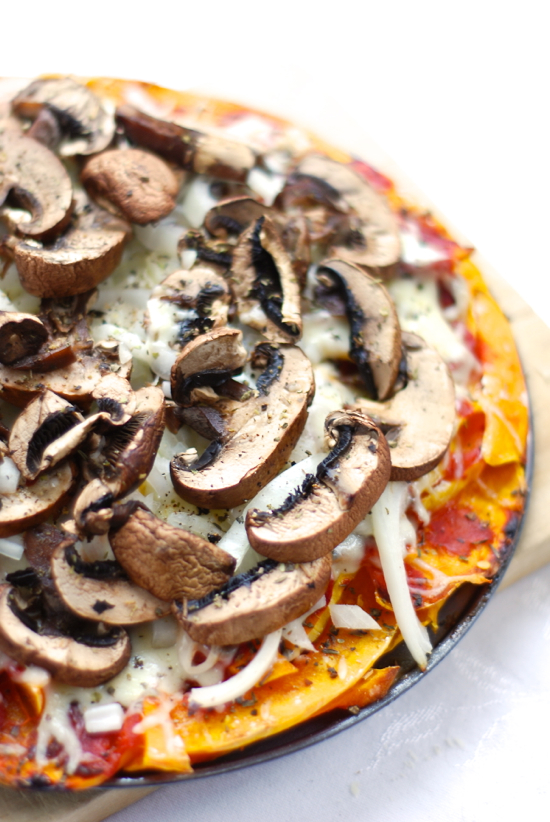 I've been experimenting with alternative, healthy ingredients for different crusts. Last week I posted a vegetarian quiche recipe with a golden carrot zucchini crust that was truly wonderful. This "pizza" is great too! You can make the butternut squash "crust" crispier by using less layers of squash, and spreading them into a bit of a thinner layer on a olive oiled pizza pan. If you make the crust thicker, the squash will stay more tender. Honestly, I love this both ways. A word of warning…don't over-salt the squash before blotting it dry and dredging or it will get WAY too salty. Other than that, enjoy!
small winter squash, you may or may not use it all
sea salt
6 Tablespoons olive oil
1 cup all-purpose flour, for dredging
8 oz. organic tomato sauce
3 teaspoons dried pizza seasoning
2 cloves fresh garlic, minced
1 cup grated mozzarella cheese
8 oz. fresh, sliced, baby bella mushrooms (or any fresh mushrooms)
thinly sliced onion
freshly ground pepper
black truffle oil for drizzling
Peel squash. Remove all seeds, and set aside for another use. Cut the squash into slices 1/16th of an inch thick. Place in colander. Sprinkle lightly with some sea salt (don't over-do it…a couple teaspoons total will do the trick.) Allow to sit for an hour. Rinse slices well, and pat dry. Preheat oven to 350 degrees F. Drizzle a few Tablespoons of the olive oil on pizza pan (for thinner, crispier crust) or in a springform pan (for thicker, more tender crust.) Spread to coat bottom of pan. Pour flour onto plate. Place each slice of squash into the flour, coating each slice well. Make a slightly overlapping layer of squash slices on baking pan. Drizzle a little more olive oil on the layer, and repeat until you have a couple layers (for thin crust) or 4-5 layers (for thicker crust.) Drizzle the tomato sauce evenly over squash. Bake at 350 for about 50 minutes, or until bottom of crust is sizzling and the top is golden.
While the "crust" is baking you can saute the onion and garlic a little if you like. When the 50 minutes is up, spread the onion and garlic on top of the sauce layer. Then sprinkle on the pizza seasoning, pepper, cheese and mushrooms. Place back in the oven and cook for about five more minutes or until cheese is melty. Cool a bit and then slice into wedges like a pizza. Drizzle with a little truffle oil and serve!
~Melissa
You may enjoy these related posts: