Print Friendly Version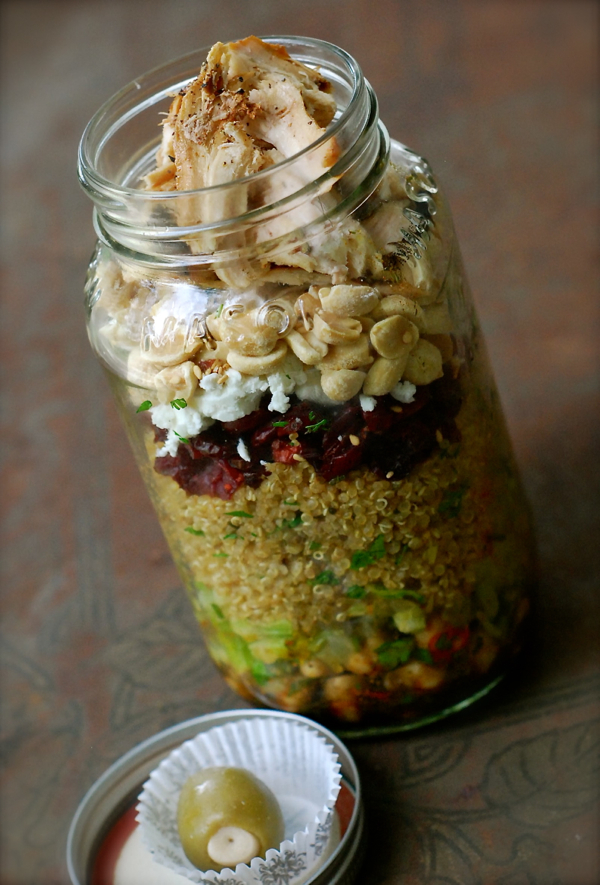 We've been so busy with warm weather activities that I'm getting a little dizzy. It really has been a wonderful summer so far though.
We love to pack picnics this time of year and this salad in a jar has it all. It's the perfect thing to take along on a hike in the woods or a day at the swimming hole. It's packed with flavor, protein, vitamins and fiber and will satisfy your hunger for hours. SOOOO good!
~ makes 4 jar salads (1 quart each) ~
::: each of the below measurements are to be divided between the 4 jars :::
chickpea salad (recipe below)
1 large chopped onion and 3 sticks of chopped celery sauteed in olive oil, cooled
1 batch confetti quinoa (click HERE for the recipe)
2 cups craisins or other dried fruit
8 oz. montrachet goat cheese
1 cup unsalted peanuts
1/4 cup toasted sesame seeds
12 oz. cooked, seasoned chicken breasts, cooled and shredded
honey, extra virgin olive oil and balsamic for drizzling between layers
salt and pepper
4 large garlic stuffed olives
for the chickpea salad:
1 (15 oz.) can chickpeas, rinsed and drained well
3 Tablespoons extra virgin olive oil
1/4 cup fresh cilantro, finely chopped
1 teaspoon smoked paprika
1/2 teaspoon cumin
1/4 teaspoon curry
1/8 teaspoon cayenne pepper
splash of balsamic vinegar
Toss all chickpea salad ingredients together in a small mixing bowl. Divide the salad between each of 4 (1 quart) canning jars.
Continue layering the ingredients, dividing the ingredients between the jars, in the order given, drizzling a little oil, balsamic, honey, salt and pepper between layers as desired:
sauteed, cooled onion and celery mixture
confetti quinoa, cooled (you probably won't use all of it)
craisins
montrachet (chevre)
peanuts
sesame seeds
cooked, shredded, cooled chicken
stuffed olives
Cover jars tightly and keep cold until ready to serve.
Use long, sundae spoons to mix up your salad…
Enjoy!
~Melissa
You may enjoy these related posts: