Print Friendly Version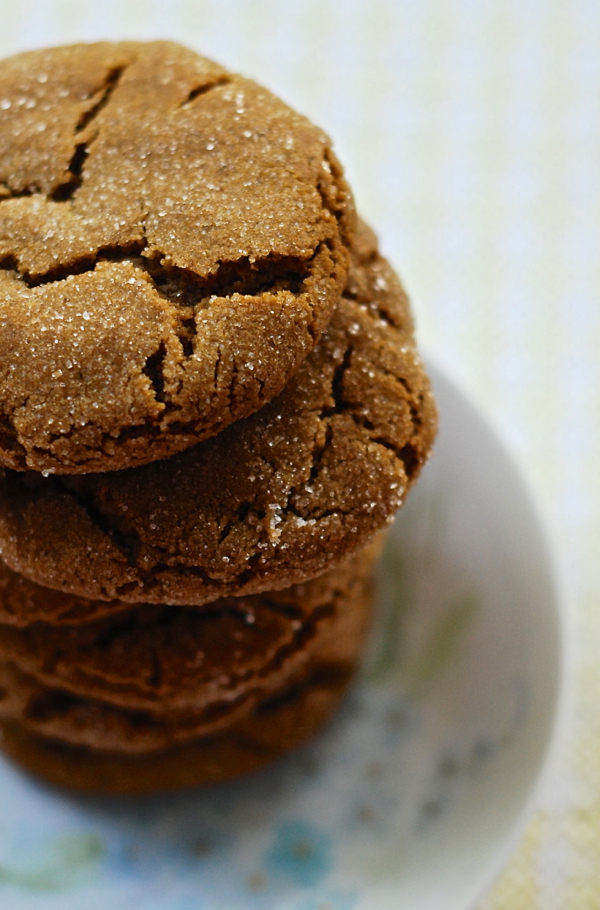 My daughter Gracie is getting more and more talented in the kitchen. She's been experimenting and baking up all sorts of goodies. She's also in the process of inventing a new "roll-up" recipe to post! We can't wait to share that with all of you. Have you tried her Grilled Cheese Roll-Ups yet? If not, you're in for quite  a treat. They've become a blog favorite and one of the most shared and pinned recipes in our repertoire.
Here's Grace's latest creation. They're chewy and spicy and perfect and everything a molasses cookie should be.
~ preheat oven to 375 degrees F. ~
yield: approximately 2 dozen cookies
2 and 1/4 cups all purpose flour
2 teaspoons baking soda
1/2 teaspoon sea salt
1 and 1/2 teaspoons cinnamon
3/4 teaspoon ground cloves
1/2 teaspoon allspice
1/2 teaspoon nutmeg
1 and 1/2 sticks (3/4 cup) unsalted butter, softened
1 cup sugar + 1/3 cup for coating
1 large egg, lightly beaten
1 teaspoon pure bourbon vanilla extract
1/3 cup molasses + 2 Tablespoons
Mix flour, soda, salt and spices in a large mixing bowl. Mix with a wire whisk until all dry ingredients are evenly distributed. Set aside.
In the bowl of a counter top mixer, and using the whisk attachment, beat butter for 2 minutes on medium-high speed, until light and fluffy. Add 1 cup of the sugar and beat an additional 3 minutes on medium speed. Add egg, vanilla and molasses. Beat on medium speed for 30 seconds. Add dry ingredients and beat on low, just until combined. Turn up mixer and beat the cookie dough on medium speed for 30 seconds.
Roll dough into golf ball-sized balls. Roll cookie dough balls in the remaining 1/3 cup of sugar. Place coated cookie dough balls 2 inches apart on ungreased cookie sheets. Bake 11 to 13 minutes, or just until the edges are set and the center is soft and slightly puffed. Don't over-bake or your cookies will become crunchy.
Cool cookies on cookie sheet for 3 minutes before carefully transferring to cooling racks to cool completely.
Place completely cooled cookies in air-tight containers. These will keep, unrefrigerated, for a week.
Enjoy!
~Melissa
You may enjoy these related posts: