Print Friendly Version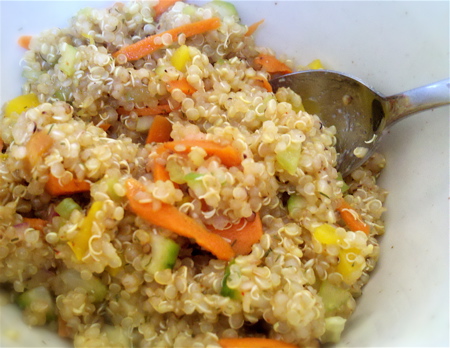 ~ confetti quinoa ~
by
Maria Denise Davis
I have never really been a fan of rice. In fact I used to be a meat and potatoes kind of girl. Now that I've cut meat and animal products out of my diet, I'm just a potatoes girl. So I've really had to work to get protein back into my diet.
A while back I made fish for the family, and as a side, I cooked couscous. Amy loved it, but Kaela wasn't so sure. The next time around, I found quinoa to serve with the fish, which looked similar but took a bit longer to cook. Like many grains, it took on the flavor of the liquid in which it was cooked. I liked the texture and the higher protein and fiber content of this grain, and ever since it has secured a spot on my pantry shelf.
Digressing even further back, I remember trying tabouleh, and liking it, except it seemed too hearty. It could have been that particular preparation, but the concept remained with me for a long time. And that is where this idea generated. This is a similar concept, with a different base. Quinoa sounds pretty exotic, but it is readily found in most grocers, and in bulk bins at local markets.
Here's how to make it:
Heat oil in a small saucepan. I used avocado oil, and love to use sesame oil, but you can use olive oil if that's what you have. When the oil is hot, add one cup of quinoa and stir. You will hear it pop and it will begin to smell nuttier. Before you burn it (maybe after 5 minutes), add 2 cups of vegetable broth. Turn heat to medium and cover for about 15 – 20 minutes. Keep stirring occasionally to ensure the quinoa doesn't stick to the bottom. Uncover as you must to ensure most the liquid is dissolved.
While the quinoa is cooking:
Finely chop a stalk of celery, including leaves if you have them, and place in a large bowl. Shave half a carrot into your bowl. Finely mince a slice of red onion (or green if that's what you have) and add to the bowl. Finely dice ¼ yellow or red bell pepper and add to your bowl. Finely mince about ¼ cucumber (I used a baby cuke, so it was about ½ of the cuke). Add to the bowl, as well as the juice of one lemon, four good shakes of roasted cumin (or regular cumin if that's what you have), about ½ tsp of dill and some fresh cracked black pepper. If you have any fresh herbs, add those too (like cilantro or parsley). Stir the slightly cooled quinoa into your bowl of veggies and enjoy!
Thanks for another fantastic post, Maria!
XO,
Melissa
You may enjoy these related posts: