Print Friendly Version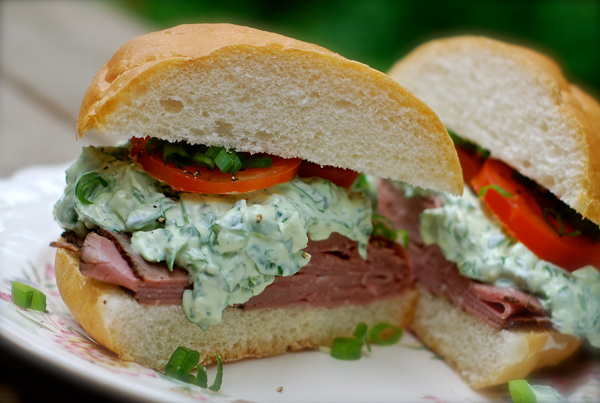 Hello, Lovelies! Okay. Before I share the recipe for this AWESOME sandwich, I just have to tell you all some very exciting news. Drumroll….. My blog was viewed by 1 MILLION unique visitors this month (so far) and that number is climbing. The blog has always had a constant, generous flow of visitors, but within the last couple months it's increased dramatically. I just wanted to take a moment to share how gosh darn excited I am and to thank each and every wonderful person who shares my recipes and blog posts. YOU are the reason for this success. Love you all!
Okay, enough with the sap, right? 😉 On to the recipe…
This ginormous sandwich is one that was inspired by a sandwich I had at a country club years ago… and later I rediscovered it when I worked at a tearoom. We served this on croissants and in wrap form at my beloved Tale of Two Sisters Tearoom. At the country club it was served on a Telara roll.
When Bonnie's tearoom cookbook "Tasty Recipes from the Sister's Kitchen" was published, she gave me a copy. When I made the sandwiches a couple days ago for a company lunch, I just had to read her inscription again…
"Melissa, Our acquaintance goes way beyond simply friendship. Thank you for being a huge part of my dream. Cook up a memory." Love, ~Bonnie, The Older Sister 2008
Cool, huh?
~ serves approximately 8 people ~
8 large croissants or talera rolls
3-4 small, ripe tomatoes, sliced very thin
1 cup green onions, chopped (for garnish)
2 lb. rare, deli-sliced roast beef
1 recipe for ranch spinach dip
Place 1/4 lb. of the sliced deli roast beef on the bottom of each of 8 croissants/rolls. Top with a generous amount of the ranch spinach dip, followed by tomato slices, chopped green onions and a twist or two of freshly ground black pepper.
Enjoy!
~Melissa
You may enjoy these related posts: