Print Friendly Version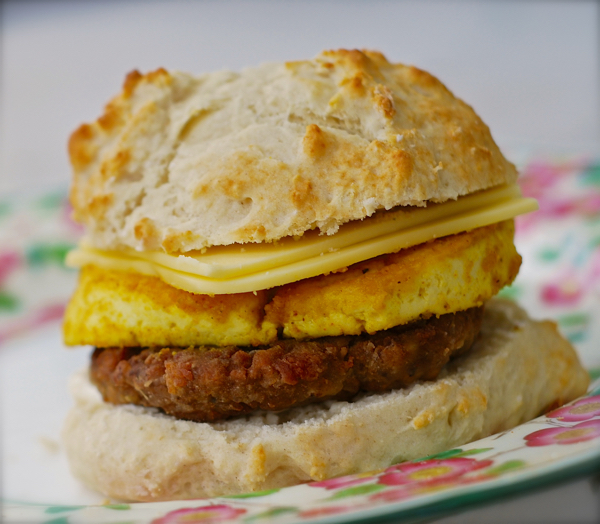 This is my first attempt at making a vegan breakfast sandwich, and I have to say, it turned out perfectly! I'm not going to do any tweaking the next time I make it. This delicious sandwich is everything a breakfast sandwich should be. I was tempted to add some sprouts or a tomato slice for color, but I was in the mood for the fast food type of sandwich, so I decided to go without the produce.
Vegan friends, get ready to do a happy dance. This is nothing short of amazing. Flaky, fresh biscuit, spicy sausage patty, seasoned tofu egg, topped with a little Just Mayonnaise, and Field Roast brand Chao cheese slices. Don't forget to put plenty of ketchup on your plate for dipping!
For the biscuits:
yield: 8 biscuits

2 and 1/4 cup Bisquick baking mix
2 egg replacer eggs (I used Bob's Red Mill)
2/3 cup to 3/4 cup unsweetened, plain almond milk

Mix all in a medium mixing bowl, just until thoroughly combined. Drop onto a parchment-lined baking sheet and bake for 8 to 10 minutes of until golden brown and cooked all the way through. Place on a wire rack to cool as you prepare the other sandwich ingredients.
For the sausage patties:
~ Makes 8 to 10 sausage patties ~

1 cup TVP (textured vegetable protein)
1 cup hot water
2 Tablespoons flax meal
1/4 cup water
1 cup all-purpose flour
2 Tablespoons nutritional yeast
2 teaspoons garlic powder
2 teaspoons onion powder
2 teaspoons smoked paprika
1 teaspoon rubbed sage
1 heaping Tablespoon fennel seeds
1 teaspoon freshly ground black pepper
1/4 teaspoon cayenne pepper
2 Tablespoons lite soy sauce
2 Tablespoons pure maple syrup
1 teaspoon salt
Mix TVP and the 1 cup hot water in a bowl. Stir to mix and set aside. In another bowl, mix flax meal and the 1/4 cup water. Stir to mix and set aside to thicken.
In a third, large mixing bowl, mix flour, nutritional yeast, garlic powder, onion powder, smoked paprika, sage, fennel, peppers, and salt. Use a wire whisk to combine. Once TVP has absorbed most of the liquid and has become soft, add it along with the thickened flax mixture, to the dry ingredients. Add soy sauce and maple syrup. Mix everything very well.
Put a little more flour in a bowl, and cover your hands with flour. Shape sausage mixture into 2 inch balls, roll in a little flour, and flatten to 1/3 inch thick. Place sausage patties on a plate as you work. Use up all the sausage mixture.
Melt a heaping Tablespoon of coconut oil in a non-stick frying pan over medium heat. Once oil is melted and hot, fry the patties in the oil for about 3 minutes per side or until deep golden brown and hot all the way through. Once patties are done, place them on an oven-safe plate, cover them with foil, and set them in a very low oven to keep them warm while you make the tofu eggs.
For the Tofu Eggs:
Note: You'll want to make one tofu egg round for each sandwich, and you'll want to use pressed, extra firm tofu for this recipe. One block of extra firm tofu will  yield enough for 3 sandwiches with some tofu edges left over for another recipe.
Pressed, extra firm tofu, dried off with paper towels
2 Tablespoons chickpea flour
2 Tablespoons nutritional yeast
1/2 teaspoon salt
1/2 teaspoon onion powder
1/2 teaspoon garlic powder
a little freshly ground black pepper
1/4 teaspoon turmeric (for color)
Cut drained tofu into 3 large slabs (horizontally.) Cut a round out of each slab, using a big round biscuit cutter or just freehanding it. It doesn't have to be a perfect circle.
Mix the dry ingredients together and then dredge the tofu rounds in the mixture, pressing it all over both sides and edges so it's completely coated.
Fry in hot coconut oil over medium heat for 3 to 4 minutes per side, or until golden and hot all the way through.
Assembling the sandwiches:
Split a biscuit horizontally and spread a little Just Mayonnaise on each half. On the bottom half of the biscuit, place a hot sausage patty, a tofu egg, a slice of cheese, and finally the top of the biscuit. Repeat with other ingredients to make as many sandwiches as you need. Serve with a generous amount of ketchup for dipping.
Enjoy!
~ Melissa

You may enjoy these related posts: