Print Friendly Version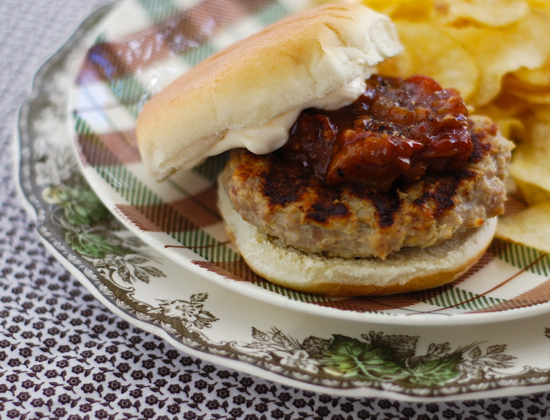 Did I mention we like to grill this time of year? We've been taking advantage of the awesome, sunny evenings by sitting out on the deck and firing up the grill. This is an easy, delicious recipe for pork apple burgers with tropical jam or sweet onion skillet jam. An even simpler version is to just grill pineapple or apple slices rings right alongside the burgers, but I was in the mood to go the extra mile last night and got creative by inventing some yummy jam.
~pork apple burgers~
makes 6
Combine:
1 lb. ground pork
1/2 crisp apple, cored, chopped
1/2 onion, peeled, chopped fine
1 clove garlic, minced
1 Tablespoon crushed pineapple
1 Tablespoon soy sauce or Teriyaki sauce
1 egg
1/4 cup to 1/2 cup dry bread crumbs
6 burger buns, buttered and toasted on grill
Mix all ingredients well, using your hands or a wooden spoon. Add bread crumbs as needed to firm up the burgers so the meat is formable. Form into 6 patties and grill over moderate heat for about 5 minutes on each side or until well done.
~ tropical jam ~
2 teaspoons extra virgin olive oil
1/2 onion, chopped fine
1 garlic clove, minced
15 oz. can crushed pineapple, drained
1 canned peach, chopped
1 Tablespoon fresh ginger, grated
1/4 cup mango jam
2 Tablespoons hot pepper jelly
2 Tablespoons white wine
2 teaspoons onion powder
salt, pepper and cayenne to taste
Heat the olive oil in a skillet. Add chopped onion to the oil and saute for a few minutes or until slightly browned and transparent. Add garlic. Cook for 1 minute. Add the rest of the ingredients and cook until the juices and jams caramelize and thicken a bit. Cover. Re-heat just before serving with the burgers. Store the remainder of the tropical jam in the refrigerator for up to a week. It's delicious with grilled shrimp too!
~ sweet onion skillet jam ~
2 Tablespoons extra virgin olive oil
1/2 onion, chopped fine
1/2 apple, unpeeled, chopped fine
1 garlic clove
1/4 cup tomato jam or mango chutney
2 Tablespoons Sriracha hot sauce
2 Tablespoons sherry
1 Tablespoon Teriyaki sauce
freshly ground black pepper
Heat oil in skillet. Add onion and apple and saute until slightly caramelized and sticky. Add garlic and cook for one minute. Add tomato jam, Sriracha, sherry, Teriyaki and pepper. Reduce heat and cook, stirring occasionally until thickened and hot. Serve on burgers hot or cold. This jam is also wonderful as an accompaniment to a cheese tray.
Enjoy!
~Melissa
You may enjoy these related posts: