Print Friendly Version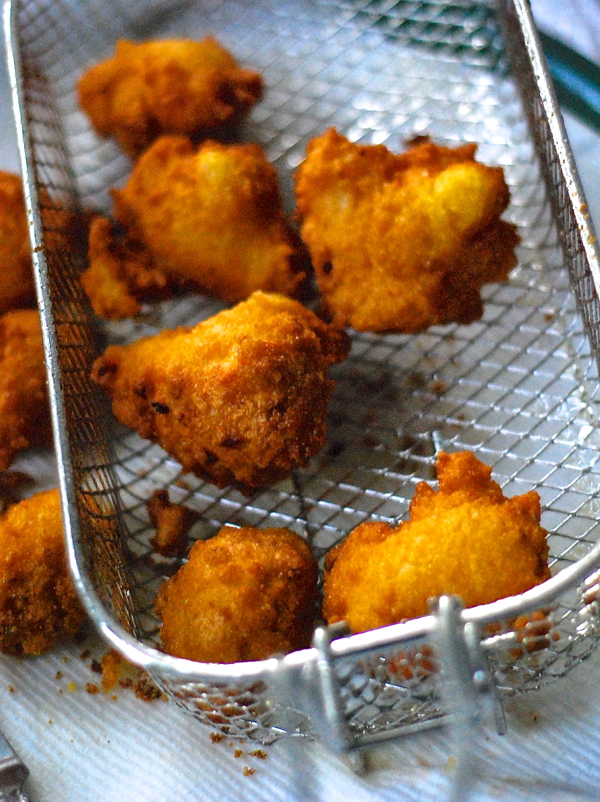 Happy August, Friends! I can't believe how quickly the time has flown. Summer is winding down and everyone is talking about their summer "bucket lists." We have to get another beach day in for sure, and of course there's the Minnesota State Fair, Renaissance Festival, and family picnics…. What's on your list?
Jeff purchased a deep fat fryer about a week ago. We've decided to only use it once a month (or so) and I have a whole list of fun recipes I want to try… Still, I realize that owning one of these is a little dangerous (when you're considering health and calories), so I'm proceeding with caution. 😉
Here's one of the first things we made, and they turned out awesome with the catfish nuggets! (Recipe for that, coming soon!)
1 and 1/2 cups yellow cornmeal
1/2 cup all-purpose flour
1 teaspoon baking powder
1/2 teaspoon baking soda
1/8 teaspoon Old Bay Seasoning
1 small onion, finely chopped
1 cup buttermilk
1 egg, lightly beaten
Heat your deep fat fryer to 350 degrees F. Mix the cornmeal, flour, baking powder, baking soda and Old Bay Seasoning together in a large mixing bowl.
Mix the chopped onion, buttermilk and egg together in a medium mixing bowl.
Add the wet ingredients to the dry ingredients and mix until just combined.
Drop batter, one teaspoonful at a time, into the hot oil, cooking according to the directions for your particular fryer. Fry until golden, turning as necessary during the cooking process.
When the hushpuppies are a deep golden brown, remove one and test it. If it's cooked all the way through, they're done.
Remove from the oil onto paper towel-lined plates and allow them to drain for a minute. Enjoy with freshly cooked fish, lemon wedges, cocktail sauce and tartar sauce.
~Melissa
You may enjoy these related posts: