Print Friendly Version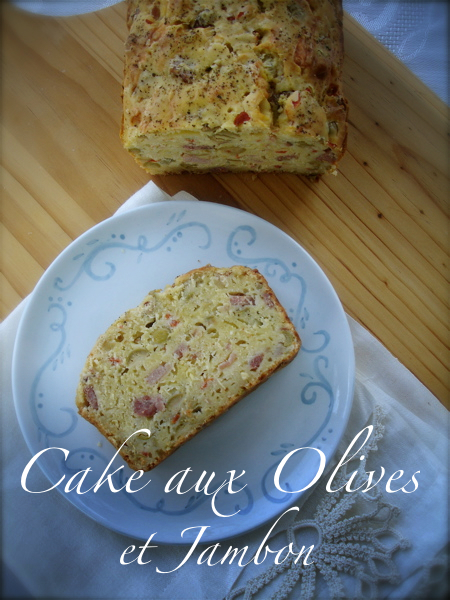 ~ cake aux olives et jambon ~
olive and ham loaf
I found this amazing recipe while perusing the pages of one of my favorite cookbooks, Paris Boulangerie Patisserie : Recipes from Thirteen Outstanding French Bakeries by Linda Dannenberg. This particular recipe is from the oldest patisserie in the city, Stohrer.
Stohrer's chef, Chef Moreau, invented this savory cake recipe that is studded with ham and olives, and is frequently bought on Fridays by the patrons of the bakery to take along with them for long weekends in the country. I just love that description and the imagery that my imagination conjures up at the words "French country house weekend." Ahhhh, romance…. 😉
I hope you enjoy this bread as much as we do. It's fabulous for picnics, with tea, or as an addition to a brunch buffet. Jeff LOVES it. I have used sherry in place of vermouth and swiss cheese in place of the gruyere before and it's still awesome.
2 cups all-purpose flour
2 and 1/2 teaspoons baking powder
1/2 cup dry white wine
1/2 cup dry vermouth or sherry
4 large eggs, beaten
1/2 cup extra virgin olive oil
1 and 1/2 cups cooked, finely diced, ham
1 and 1/2 cups gruyere or swiss cheese
3/4 cup  green olives, pitted and coarse chopped
black pepper
Preheat oven to 350 degrees F. In a large mixing bowl, combine flour and baking powder. In a separate mixing bowl, beat the eggs and add the wine, vermouth and oil. Mix until smooth. Add to the flour mixture and mix until just incorporated. Fold in the ham, cheese and olives until just incorporated.
Butter an 8×4-inch loaf pan. Pour the batter in. Grind a little fresh black pepper over the top. Bake until the loaf is golden brown and a toothpick inserted in the center emerges clean. About 55-65 minutes.
Cool briefly on a wire rack. After 10 minutes, invert loaf onto rack to cool completely.
Enjoy!
~Melissa
You may enjoy these related posts: