Print Friendly Version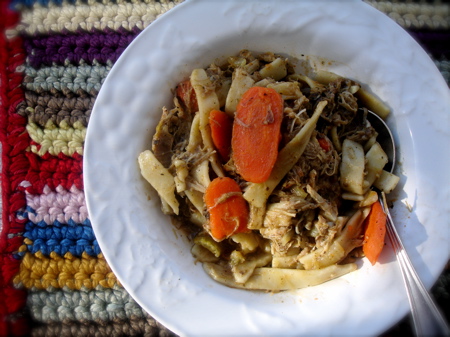 I like to save all of the bones, giblets, wings, and necks from my turkeys and chickens so I can make homemade soups and stews. This is a frugal way to go and very flavorful. I decided to take a few pictures of the easy process so I could share it with you.
This year we made a fresh, 12 lb. turkey for our Thanksgiving meal. The day we baked the turkey, I put the giblets and neck in the freezer.
We enjoyed leftovers for a few days after the holiday, and then, after we were "turkeyed out," we put the bones (which still had a little meat on them) in big freezer bags and froze them. I put the leftover, cooked turkey in a separate freezer bag and froze that too (I would say there was probably a good 5 or 6 cups of turkey in the bag… 3lb?) Anyway, it doesn't have to be exact. It's fun to reinvent this dish every time I make it. I play with the seasonings and decide whether I'm going to serve it with dumplings, noodles or rice. That's the beauty of this meal.
Soooo….a couple days ago, I took the bones and turkey out of the freezer. I placed them, along with the leftover giblets and neck in a big stock pot. I poured 4 cups of chicken broth over them along with about 4 or 5 cups of water, 1/2 of a large chopped onion, 10 cloves of oven roasted garlic, a drizzle of olive oil, 2-3 Tablespoons dried Italian seasoning, 2 Tablespoons dried parsley 1 teaspoon allspice, a couple bayleaves, and  a teaspoon of paprika. As the broth warmed the bones and "stock stuff", I pushed it down under the liquid so it was as submerged as possible. It's okay to add a little more water if you wish. I brought the contents of the pot to a boil and then lowered the flame under the stock pot to very low, covered it with the lid a little askew so some of the steam could escape, and let it simmer, stirring a few times, for about 4 hours.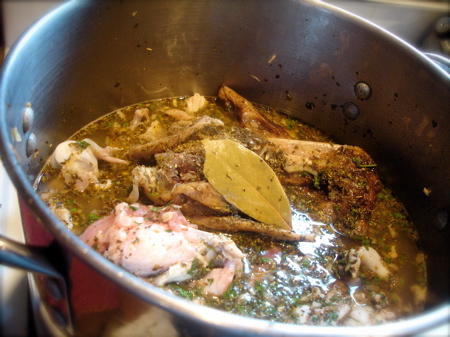 After the 4 (or so) hours, I strained the  broth into another large pot using a colander. I allowed the contents of the colander to cool enough so I could remove any extra meat from the bones, and added the usable meat back to the stock.  then I just discarded the rest of the stock "stuff."
I brought the beautiful, rich stock to a simmer again and to it I added: 4 large carrots, cleaned and sliced on the diagonal, 4 stalks of celery, coarse chopped, 1 onion, chopped, the (now thawed) turkey, cut into bite size pieces and 1 cup dry white wine. I brought the soup back to a low boil and cooked it until the veggies were tender… then added 1 lb. of good quality egg noodles (hand made are best, but I also like some of the packaged varieties.)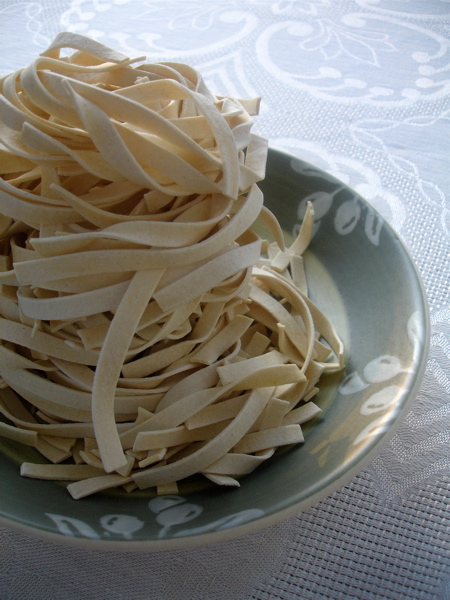 If you want more of a turkey and noodle "hot dish" add all of the noodles…if you want soup, only add half of the noodles.
This same process can be followed with chicken too. Whenever I get a whole fryer chicken I save the "pope's nose" and wings for soup. I save the bones from my rotisserie chickens. It's my favorite way to make soup, and it makes me feel so resourceful. 🙂
Enjoy!
~Melissa
You may enjoy these related posts: