Print Friendly Version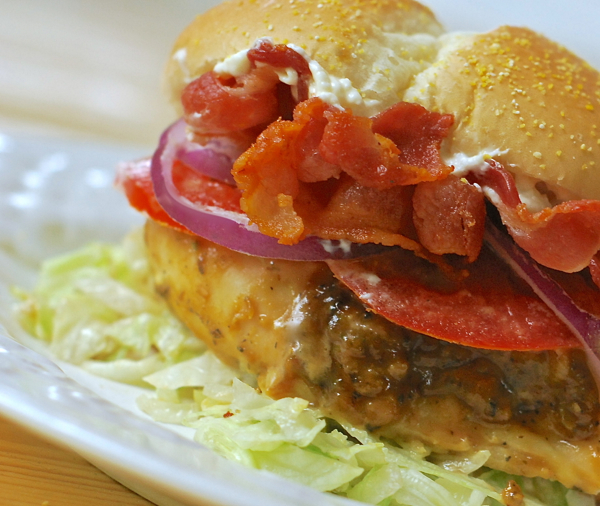 I've been making big, hearty chicken sandwiches about once a week for dinner. It's my current crave, I guess, and I can't seem to get enough of them! There's the Super Crunch Fried Chicken BLT, The Dilly Cream Cheese Chicken Sandwich, The Strawberry Poppy Seed Picnic Chicken Salad, The Chicken Bacon Cheddar Toasted Sub, The Chop Suey Chicken Sandwich, and these…
The sweet, tangy, mustardy sauce on the chicken positively makes this sandwich. It's amazing. I've made the chicken by itself and served it as an entree with mashed potatoes and a side salad before. It's really good chilled, chopped and piled high on a dinner salad as well. This time I decided I'd try it on a sandwich and, ooh la la. I'm in love.
for the honey dijon chicken:
~ serves 8 ~
~ preheat oven to 425 degrees F. ~
4 large, fresh chicken breasts, halved
1/2 cup Dijon mustard
6 Tablespoons honey
1 Tablespoon sesame oil
2 Tablespoons lemon juice OR apple cider vinegar
1 Tablespoon dried oregano
1 teaspoon freshly ground black pepper
1 teaspoon soy sauce
1/2 teaspoon garlic powder
1/2 teaspoon onion powder
Place chicken pieces in a 9 x 13 glass baking dish. Mix the mustard, honey, sesame oil, lemon juice, oregano, pepper, soy sauce, garlic powder and onion powder in a bowl and whisk until smooth. Pour over chicken. Cover baking pan with foil and bake in preheated oven for 25 to 35 minutes or just until chicken is completely cooked through and juices run clear when you cut into a breast.
for the sandwiches:
8 sour dough Kaiser rolls
2 lb. bacon, fried until crispy
real mayonnaise
shredded iceberg lettuce
2 large, ripe, thinly sliced tomatoes
thinly sliced purple onion
Toast rolls if you like. Spread each side of each bun with some mayonnaise. Top bottoms of rolls with some shredded lettuce, followed by a piece of honey dijon chicken, a little of the honey dijon sauce from the baking pan, tomato, onion, bacon and tops of rolls. Serve with a pickle and your favorite chips!
Enjoy!
~Melissa
You may enjoy these related posts: