Print Friendly Version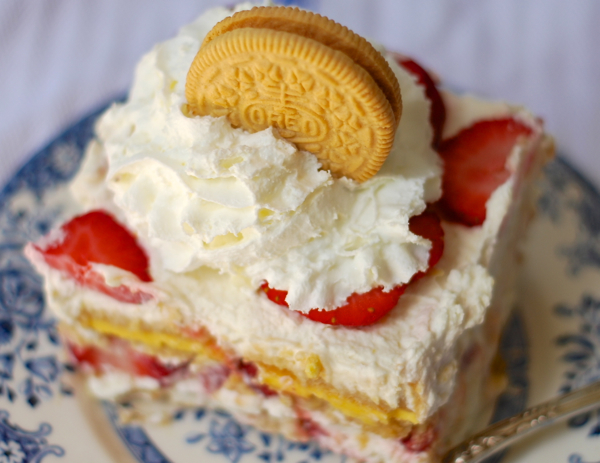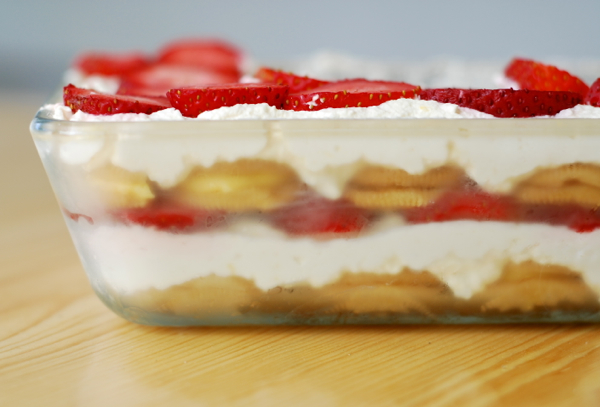 I hadn't made an icebox cake in awhile and I thought something strawberry lemonade would be just the thing to serve as the "grand finale" for our back yard BBQ this weekend. It was so ridiculously easy to prepare and SO delicious. If you can't find the Lemon Cream Oreos, never fear, simply use the Golden Oroes instead. The Lemon Cream ones are my favorite, and they add a bit more "lemonyness" to this dessert.
2 cups heavy whipping cream
1/2 cup powdered sugar
zest of one large lemon
1 Tablespoon pure vanilla extract
1/2 cup fresh lemon juice, seeds removed
1/4 cup sugar
1 (15 oz.) package Lemon Cream Oreos OR Golden Oreos + more for garnish
2 pints fresh strawberries, sliced
Redi Whip for garnish (optional)
Place the whipping cream, powdered sugar, lemon zest and vanilla in the bowl of a counter top mixer. Mix, using the whisk attachment, on medium low until thickened a bit. Turn mixer on high and whip cream until stiff peaks form.
Place lemon juice and sugar in a small, shallow bowl. Mix until sugar is dissolved. Dip half the Oreos, one at a time, in the lemonade. Allow each to absorb a bit of the liquid by holding the cookies under for about 5 seconds. Line the bottom of a 9×9, glass cake pan with the cookies. Spread half of the lemon whipped cream over the cookies followed by a layer of the sliced strawberries. Repeat with the second half of lemonade-soaked Oreos, whipped cream, and strawberries.
Refrigerate icebox cake for 8 hours prior to slicing. Top each piece of Strawberry Lemonade Icebox Cake with a dollop of Redi Whip and a whole Oreo cookie, if you wish. Serve.
Enjoy!
~Melissa
You may enjoy these related posts: