Print Friendly Version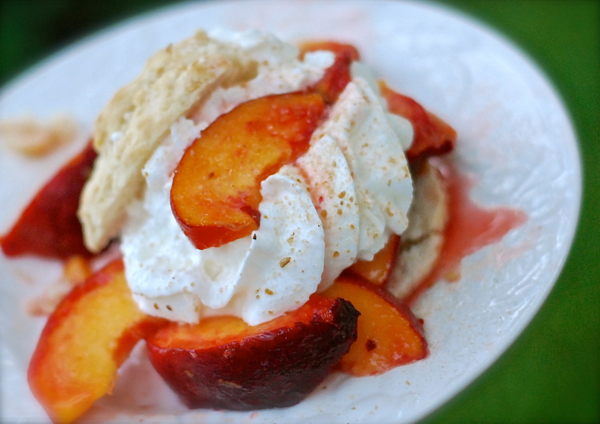 Today was one of those beautiful, temperate, amazing days in the Mississippi river valley. Not too hot, not too cold and not too humid. We hung out on the deck with friends and family this afternoon, grilled some yummy burgers, had a couple drinks and talked the day away. Love days like this.
Here's a delicious, easy dessert that screams summer. Everyone went crazy for this. Hope you love it.
for the shortcakes: (makes approximately 12)
2 cups all purpose flour or biscuit flour
1 Tablespoon baking powder
3/4 teaspoon salt
1/4 cups sugar + more for sprinkling the tops
1/4 cup unsalted butter
3/4 cup half & half OR buttermilk
2 teaspoons pure vanilla extract
melted butter to brush over tops
Preheat oven to 400 degrees F. In a large bowl, mix flour, baking powder, salt and sugar. Cut in butter, using a fork, until coarse, uniform crumbs form. Mix in half & half and vanilla. Drop by large spoonfuls onto a large baking sheet, about 2 inches apart. Brush each biscuit with a little melted butter and sprinkle tops with a light dusting of sugar. Bake for 15 to 20 minutes, or just until tops are golden brown. Cool completely before assembling your desserts.
for the Jack Daniel's peaches:
8 large, ripe peaches
1 shot Jack Daniel's Tennessee Whiskey
1/4 cup sugar
3 Tablespoons lemon juice
Whisk Jack Daniel's, sugar and lemon juice together in a small mixing bowl. Wash, pit and slice peaches. Place peaches in a large mixing bowl. Pour whiskey mixture over peaches and toss gently, until peaches are completely soaked and evenly coated.
to plate:
Split shortcakes. Warm them up in the microwave for 10 to 15 seconds a piece. Plate shortcakes. Top bottom halves with a generous dollop of fresh whipped cream and some of the peach/whiskey mixture. Sprinkle a little cinnamon and/or nutmeg over the top and place the top of the shortcake over fruit.
Enjoy!
~Melissa
You may enjoy these related posts: