Print Friendly Version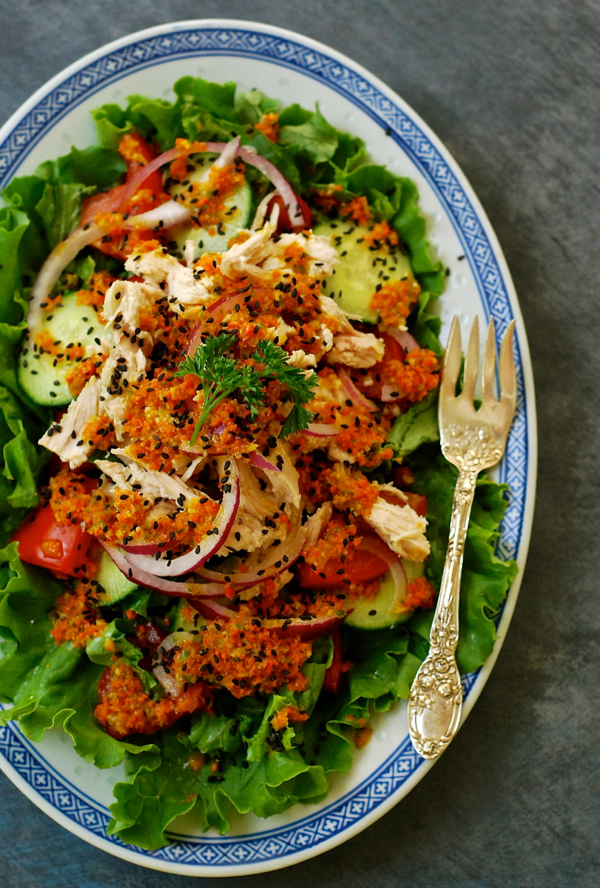 The flavors of this salad will transport you to your favorite Japanese restaurant. It's loosely adapted from Gwyneth Paltrow's awesome cookbook It's All Good. I made a few major tweaks to the recipe and I just love it. If you choose to use the Nori-Sesame Sprinkle over the top of this salad, it tastes a bit like sushi!
Serves 6
1 head Bibb or Romaine lettuce, washed well and torn
2 perfectly ripe tomatoes, cut into big chunks
1/2 cucumber, sliced thin
1/2 red onion, sliced thin
3 large chicken breasts, chilled well and shredded
Carrot-Ginger-Scallion Dressing (recipe below)
Nori-Sesame Sprinkle (recipe below, optional)
black toasted sesame seeds
Sriracha hot sauce (optional)
Ponzu Sauce (optional)
Tear lettuce into bite size pieces and divide it among 6 plates. Top each salad with an equal amount of tomato chunks, cucumber slices, shredded chicken, desired amount of dressing, Nori, sesame seeds, hot sauce and ponzu.
~ Carrot-Ginger-Scallion Dressing ~
2 large carrots, peeled and roughly chopped
3 green onions + tops, chopped
1/4 cup peeled, roughly chopped, fresh ginger root
1 large garlic clove, peeled and halved
1/4 cup cream sherry
1/4 cup rice vinegar
2 Tablespoons raw honey
2 Tablespoons toasted sesame oil
1/2 cup extra virgin olive oil
1 Tablespoon Ponzu sauce
1 teaspoon freshly ground black pepper
Place all dressing ingredients in the bowl of a bar blender or food processor. Puree until completely smooth. Transfer to a large canning jar, cover and refrigerate until ready to use.
Shake well before each use.
~ Nori Sesame Sprinkle ~
3 sheets toasted nori seaweed
2 Tablespoons toasted sesame seeds
1 teaspoon sugar
pinch of coarse sea salt
Break nori into small pieces. Grind them in a clean coffee grinder until powdery. Transfer to a small canning jar and toss with the sesame seeds, sugar and salt. Cover tightly and keep in a cool, dry place until ready to use. This is a wonderful condiment served on salads, soups, steamed/grilled fish, or on avocado toast!
Enjoy!
~Melissa
You may enjoy these related posts: