Print Friendly Version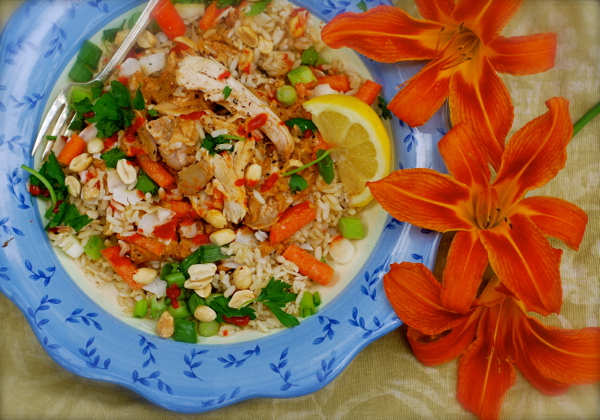 This little recipe was a big hit on our vacation! We made it for dinner one day and had it for lunch the next. The flavor combination is amazing!
~ serves 6 ~
16 oz. medium salsa (I used Newman's Own Pineapple)
13 oz. creamy peanut butter
15 oz. coconut milk (I used lite)
2 Tablespoons fresh lime juice
2 Tablespoons Ponzu sauce
1 Tablespoon sugar or honey
1 teaspoon garlic powder
1/4 cup finely grated, fresh ginger
2 to 3 lb. boneless skinless chicken thighs
12 oz. Chinese stir fry noodles, Lo mein noodles, thin spaghetti OR rice
2 Tablespoons olive oil
Topping Choices:
 chopped peanuts (I used unsalted)
chopped fresh cilantro
organic baby carrots, cut up OR julienne carrots
lemon OR lime wedges
hot sauce
ponzu sauce or soy sauce
freshly ground black pepper
toasted sesame seeds
green onions + tops, sliced thin
Place salsa, peanut butter, coconut milk, lime juice, ponzu, honey, garlic powder and ginger in the bowl of a 6 to 7 quart Crock Pot/ Slow Cooker. Using a wire whisk, stir together until smooth.
Add fresh or completely thawed chicken thighs to the sauce, pushing them under so they're completely submerged. Cover Crock Pot and set on low 6 to 8 hours, or just until the chicken is completely done. Shred chicken using 2 forks.
When the chicken is almost done, prepare your noodles/rice according to package directions for 6 servings. If you're making noodles, drain them well when they're done and toss them with the olive oil to keep them from sticking together.
Divide noodles/rice among 6 bowls. Top with some of the shredded chicken and peanut sauce, followed by your choice of the listed toppings.
Enjoy!
~Melissa
You may enjoy these related posts: