Print Friendly Version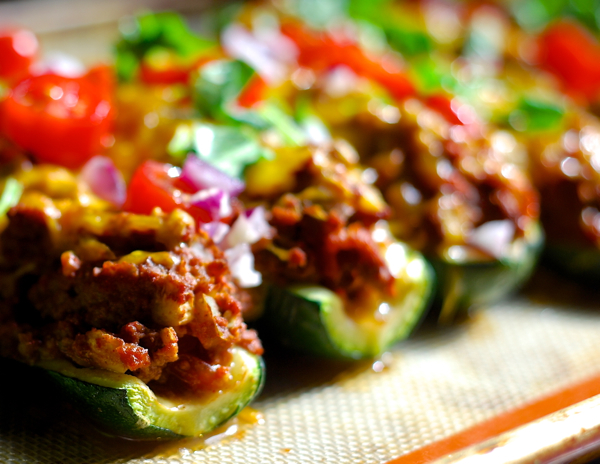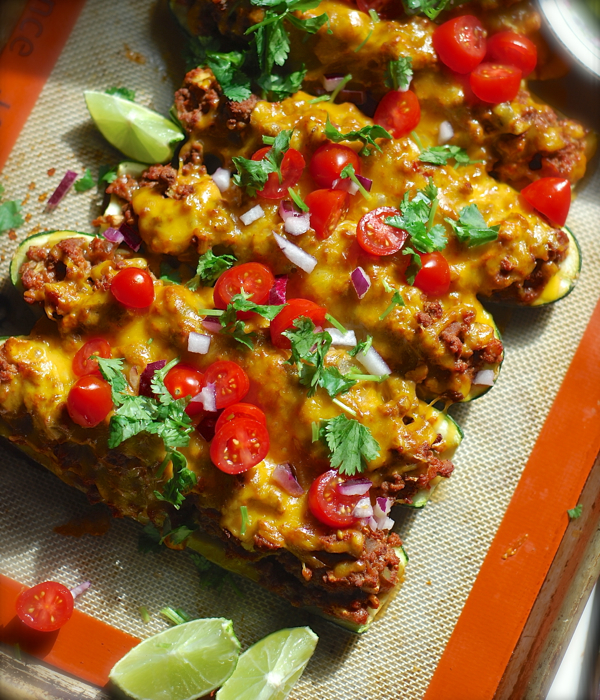 Whenever I serve my zucchini boats I get rave reviews! I usually make them with pizza flavored fillings and toppings, but this time I decided to make them Mexican taco-style. Ohmygosh. They're amazing! Low carb and high in protein… and awesome flavor!
If you want to try my Pizza-Style Zucchini Boats just click on the link. 🙂 They're fantastic either way!
to serve 3 hungry people:
~ preheat oven to 350 degrees F. ~
3 medium-sized zucchinis
1 lb. extra lean ground beef
12 oz. thick, chunky salsa
1 Tablespoon hot sauce
2 Tablespoons taco seasoning
2 teaspoons fresh garlic, minced
2 teaspoons onion powder
1 teaspoon freshly ground black pepper
8 oz. shredded cheddar, cheddar-jack, or pepper-jack cheese
your favorite taco toppings
Cut stem ends off zucchinis. Cut zucchinis in half, lengthwise. Scoop out flesh from each zucchini half, leaving a 1/4 inch wall so the shells can support the filling as they soften and bake. Coarsely chop the scooped-out flesh and place it in a large, heavy skillet along with the beef. Saute and break up meat until browned and zucchini has released it's juice. Drain very well to make the filling as dry as possible. Return to skillet. Add salsa, hot sauce, taco seasoning, garlic, onion powder, and black pepper. Cook until heated through. Mix well. Place zucchini boats on a jelly roll pan that's been lined with cooking parchment or a Silpat mat. Fill with meat mixture. Pile it high and press it down a bit so the mixture is flattened as much as possible. Bake for 20 minutes in preheated oven. At this point the zucchinis should be tender but still firm. Sprinkle cheese over tops of zucchini boats, and then bake an additional 10 minutes, or until the cheese is melted, and meat mixture is hot. Plate zucchini boats and serve with your favorite taco toppings! We love: cherry tomato slices, cilantro, purple onion, guacamole, sour cream, and a squeeze of fresh lime juice.
Enjoy!
~Melissa
You may enjoy these related posts: