Print Friendly Version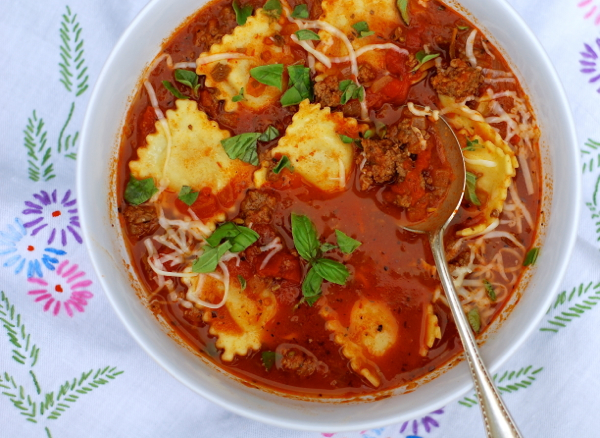 All of the luscious flavors of Italian ravs in the form of a comforting soup! I made this last night for dinner and the crowd went wild. It's so easy to make and you can absolutely double it if you're serving a crowd.
serves 6 people as a main course
1 lb. extra lean ground beef OR bulk Italian sausage
1 medium onion, chopped fine
1 sweet bell pepper, chopped
3 large cloves garlic, minced
3 Tablespoons fresh basil, chopped fine (plus more for garnish)
3 Tablespoons fresh oregano, chopped fine
1 (28 oz.) can whole tomatoes + juice
1 (24 oz.) jar pizza sauce OR spaghetti sauce
4 cups beef stock OR broth
1/4 cup dry red wine OR 2 Tablespoons red wine vinegar
1 Tablespoon hot sauce
1 Tablespoon sugar
1 Tablespoon garlic powder
1 Tablespoon onion powder
1/4 cup freshly grated Parmesan cheese (plus more for topping)
8 oz. shredded Mozzarella cheese
20 oz. Ravioli (I use Buitoni, four cheese)
Brown meat in heavy soup pot or Dutch oven. Add a little olive oil if the meat is very lean. If using bulk sausage, brown meat and then drain well.
Add onion and bell pepper and saute until veggies are tender and translucent (4 to 5 minutes.) Add the garlic, basil, and oregano. Cook for 1 to 2 minutes. Add stock, tomatoes + juice, and spaghetti sauce, wine, hot sauce, sugar, garlic powder, and onion powder. Bring to boil, and then lower heat so the soup is gently simmering. Cover soup pot so the lid is slightly askew. Simmer soup for 40 minutes, stirring occasionally so it doesn't stick to the bottom of the pot. Add the Parmesan cheese at the end of cooking time and remove soup from heat. Cover to keep warm.
Cook Ravioli according to package directions. Drain well and toss with a little olive oil.
Ladle soup into bowls. Add some ravioli to each bowl. Top with some of the shredded Mozzarella, Parmesan, and fresh basil sprigs.
Enjoy!
~Melissa
You may enjoy these related posts: