Print Friendly Version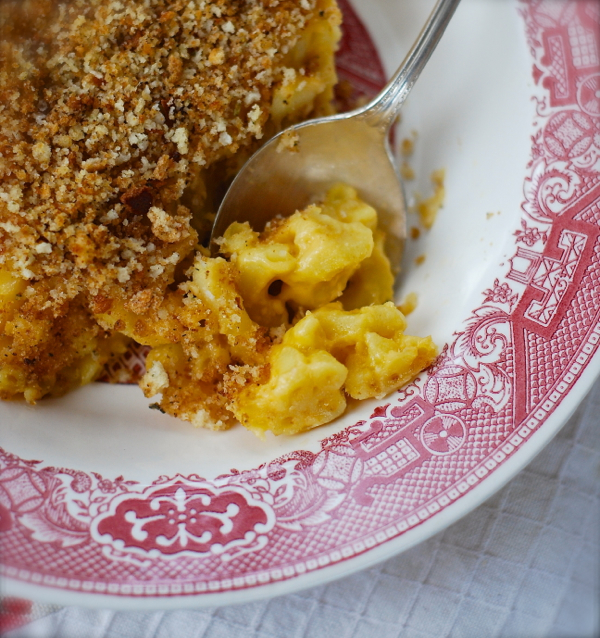 Happy Friday! How was your week? Mine flew by. Between the writing and cooking and photographing and the decorating… I've had one of those weeks where there were several instances that I got so absorbed in what I was doing, when I finally looked up at the clock it didn't seem that four or five or six hours could have possibly passed so quickly. Know what I mean? Anyway, I'm really looking forward to this weekend. Tonight we're headed to a local pub for a few happy hour cocktails, tomorrow we're getting our Christmas tree…and who knows what else. Not too much on the docket. Just the way I like it.
Last night I made up a batch of my macaroni and cheese. This is the fully loaded stuff. It's ooey, gooey, cheesy and perfect. I like to make a pan to have in the fridge for quick lunches or an afternoon snack for Gracie when she gets home from school. She likes hers drizzled with ketchup, and I must say, I tried it that way and it's awesome.
6 Tablespoons real butter, divided
1/3 cup all-purpose flour
2 cups half & half
1 cup milk
10 oz. extra sharp cheddar cheese (2 and 1/2 cups)
1 cup freshly grated Parmesan cheese
1 teaspoon salt
1 teaspoon freshly ground pepper
12 oz. elbow macaroni, cooked al dente (according to package directions) and drained well
1 and 1/4 cups herb-seasoned, dry bread crumbs
1 Tablespoon onion powder
1 teaspoon nutmeg
Preheat oven to 350 degrees F. Butter a 2 quart glass casserole dish or a 9 x 13 glass cake pan. In a large, heavy soup pot or Dutch oven, melt 4 Tablespoons of the butter over medium heat. Stir in the flour and cook, whisking, for one minute. Remove from heat and whisk in the half & half and the milk. Whisk well and place pot over medium heat. Cook, whisking constantly, until sauce thickens. Reduce heat to low and cook, stirring frequently for 5 minutes. This will insure that the flour is cooked all the way. Add the cheeses, salt and pepper. Remove from heat. Stir until cheeses are completely melted. Fold in the cooked, drained macaroni. Using a rubber spatula, scrape the macaroni and cheese mixture into prepared baking dish.
Combine the bread crumbs with the onion powder and nutmeg. Melt the remaining 2 Tablespoons of butter and add it to the bread crumb mixture. Combine well. Sprinkle evenly over the mac & cheese. Bake for 30 minutes, or until bubbly and golden brown.
Enjoy!
~Melissa
You may enjoy these related posts: