Print Friendly Version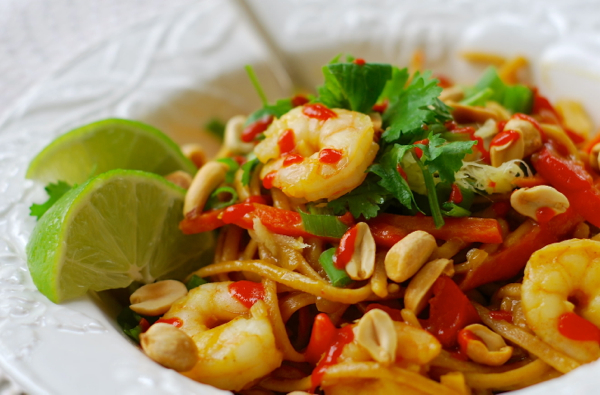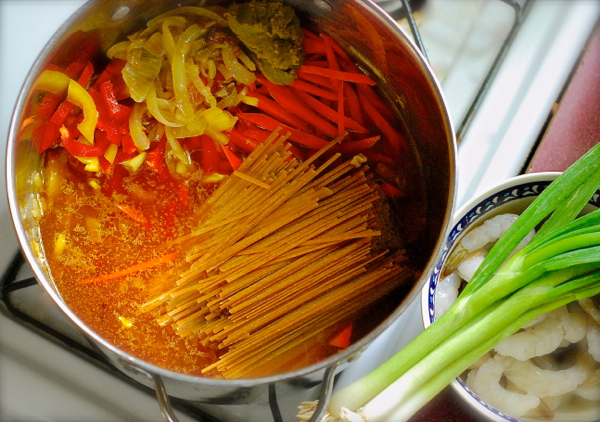 My last Magic One Pot Pasta recipe was such a hit, I had to create another one to share! This turned out amazing too, and so easy! I know that traditional Pad Thai calls for rice pasta noodles, but I was afraid they wouldn't hold up for this recipe so I used my favorite, whole grain linguine, and it worked perfectly!
I've seen a few recipes for "Pad Thai" out there that include peanut butter and/or ketchup. I'm sure that's delicious, but that's not Pad Thai. I realize my recipe isn't exactly "authentic" either, but I know that Pad Thai doesn't include peanut butter or ketchup.
For more on peanut sauce in Thai cooking you may want to read THIS article.
For the Magic One Pot Pad Thai:
2 Tablespoons extra virgin olive oil
1 large, yellow onion, halved and sliced thin
6 large cloves garlic, chopped
12 oz. whole grain linguine noodles, uncooked
1 Tablespoon fresh ginger, grated
1/2 of a yellow bell pepper, halved and sliced thin
1/2 of a red bell pepper, halved and sliced thin
3 large carrots, peeled and cut into matchsticks (julienne)
1/2 cup homemade or store-bought Pad Thai sauce (recipe below)
4 and 1/2 cups no salt added chicken stock or broth
1 teaspoon Sriracha hot sauce
1 teaspoon red pepper flakes
1 heaping Tablespoon curry powder
1 Tablespoon sesame oil
1 heaping Tablespoon red or green curry paste
pinch of cinnamon
1 lb. medium or large raw shrimp, peeled, tails removed, de-veined
garnish ideas:
chopped Thai basil
chopped cilantro
sesame seeds
peanuts
toasted coconut
lime wedges
scrambled eggs
Sriracha hot sauce
Ponzu sauce
Heat olive oil in the pot. Once hot, saute the onion in it for 10 minutes. Add garlic. Saute an additional minute. Add: noodles, ginger, peppers, carrots, Pad Thai sauce, chicken stock, Sriracha, red pepper flakes, curry powder, sesame oil, curry paste, and cinnamon. Turn up heat to high, cover and bring to a boil. Once boiling, lower to a simmer, and cover with lid askew so steam can escape. Cook this way for 10 minutes, stirring every 2 minutes. Add the shrimp. Cook an additional 5 to 7 minutes, stirring every 2 minutes, or just until noodles are al dente and most of the liquid has evaporated. Some liquid is good and makes a delicious sauce for the noodles. Plate and serve with desired garnishes (listed above.)
For the homemade Pad Thai Sauce:
6 Tablespoons Ponzu sauce
2 Tablespoons Sriracha hot sauce
1/4 cup fresh lime juice
1/4 cup extra virgin olive oil
1/4 cup coconut sugar, raw honey, or brown sugar
Place all sauce ingredients in a canning jar with a lid and shake well. Refrigerate until ready to use.
Enjoy!
~Melissa
You may enjoy these related posts: