Print Friendly Version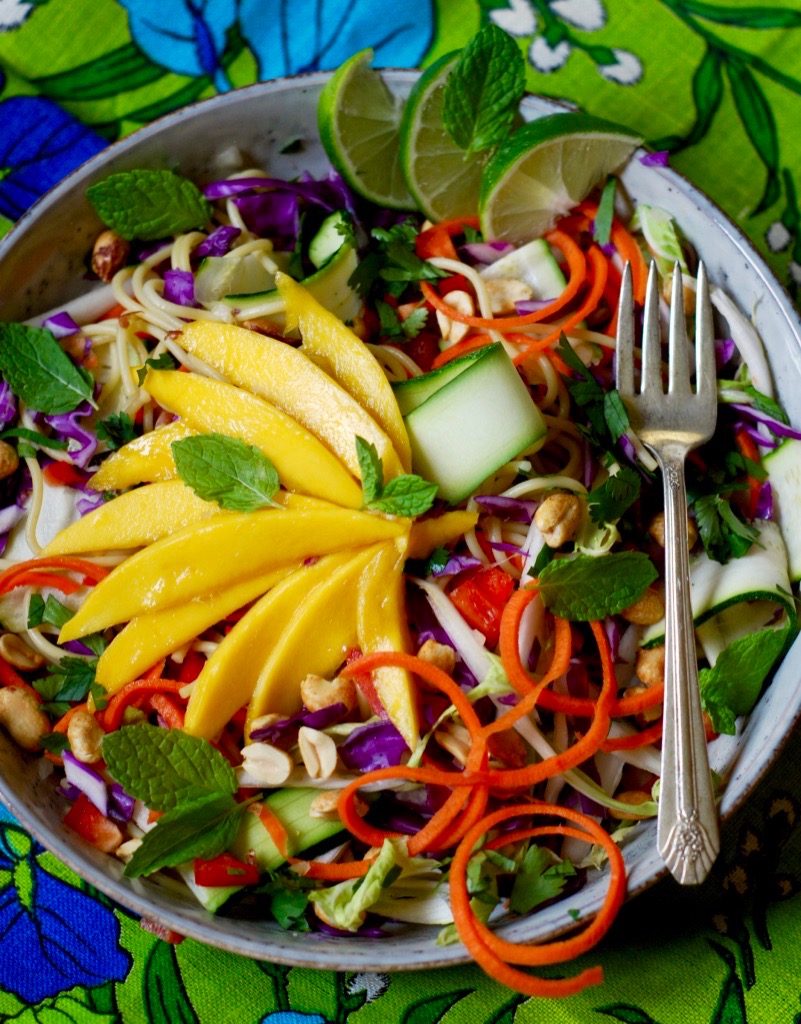 This is one of those gorgeous, show-stopper salads that you make when company is coming. It's so pretty, and the flavor combinations happening in this dish will knock your socks off.
There are many "cooling" foods in this dish which make it an even more perfect summer offering. According to eastern medicine there are foods that warm you up, and foods that cool you down. The cooling foods in this dish include: mango, cabbage, bok choy, cucumber/zucchini, fresh ginger root, basil, mint, and cilantro.
Enjoy poolside and pretend you're at a spa.
for 1 big salad:
1 cup cooked, chilled pad thai noodles, or spaghetti
1/4 cucumber, or zucchini
1/2 large carrot
1/2 of a baby bok choy, or a small handful of other greens
1 cup shredded purple cabbage
1 scallion, sliced thin, or 2 Tablespoons finely chopped onion
1 ripe, juicy mango
1/4 of a large red bell pepper, chopped
5 or 6 fresh mint leaves + more to garnish
2 large basil leaves, cut into ribbons
2 Tablespoons fresh cilantro, chopped
1/4 cup lightly salted peanuts
lime wedges
Place the cooked noodles in a wide, shallow, single serving bowl. Slice the cucumber/zucchini into ribbons using a vegetable peeler. Spiralize the carrot, or julienne if you don't have a spiralizer, cut the bok choy into thin strips, shred the cabbage, chop the onion, peel and slice the mango, leaving some of the flesh on the pit (reserve the pit), chop the bell pepper, select smallish mint leaves and keep them whole, cut basil into ribbons. and chop the cilantro. Place all in bowl with the noodles and toss to evenly combine. top with peanuts. Garnish with more mint and lime wedges.
for the dressing:
2 to 3 Tablespoons fresh mango juice
1 small garlic clove
1/2 inch piece fresh ginger, grated fine
1 heaping Tablespoon creamy peanut butter
1 Tablespoon pure maple syrup or agave syrup
2 teaspoons sriracha hot sauce
1 teaspoon dark sesame oil
1 Tablespoon light soy sauce
2 to 3 Tablespoons water
Squeeze the mango pit into the bowl of a food processor (to yield 2 to 3 Tablespoons of juice.) Add the rest of the ingredients to bowl and pulse until smooth. Top salad with dressing.
Enjoy!
~ Melissa
You may enjoy these related posts: