Print Friendly Version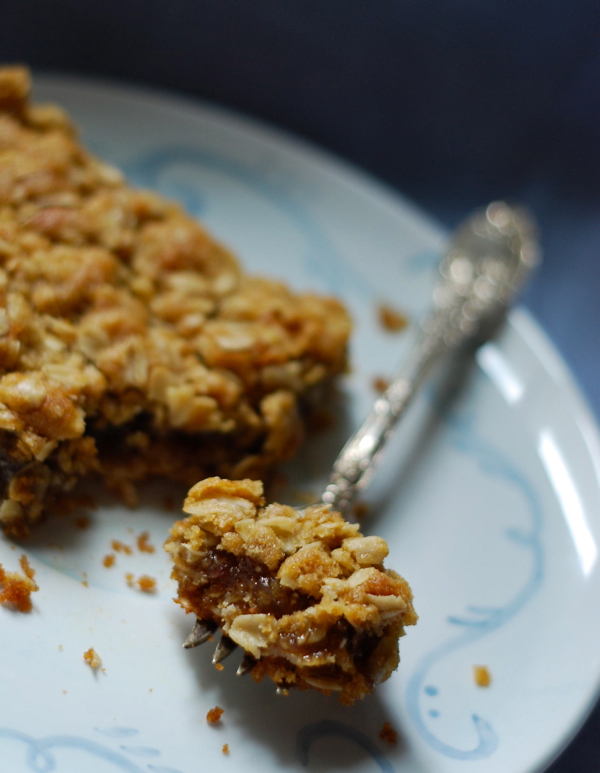 Whenever we visit The Good Earth restaurant I like to indulge by treating myself to one of their ooey gooey oatmeal date bars. They're buttery, rich, slightly crunchy on the outside and they have a thick layer of sweet, date filling in the middle.
My goal in creating this recipe was to duplicate the texture and flavor of this famous Minnesota restaurant's dessert bars, but to make them gluten free. This, my friends, is the result. I did it! First try. *Pats myself on the back 🙂 Date lovers, rejoice!
~ preheat oven to 350 degrees F. ~
for the filling:
2 heaping cups pitted dates, chopped
3 Tablespoons almond flour
1 cup water
1/2 cup brown sugar
1 teaspoon cornstarch
2 teaspoons bourbon vanilla (I used Trader Joe's)
Cook the dates, flour, water, brown sugar and cornstarch over low heat until soft and thick. Once thickened, remove from heat and stir in the vanilla. Set date mixture aside while you make the crust.
for the crust:
3 cups old fashioned rolled oats (not steel cut and not quick-cooking)
1 and 1/2 cups gluten free all-purpose flour
1 and 1/2 cups brown sugar
1 and 1/2 teaspoons baking soda
1 cup + 2 Tablespoons real, melted, unsalted butter
Combine all dry ingredients. Toss with the melted butter until thoroughly combined. Butter a 9 x 13 glass cake pan. Measure 3 cups of the oatmeal mixture and pour it into the bottom of the buttered pan. Press into an even layer on the bottom of the pan so the crust reaches all edges and corners. Pour the date filling onto the bottom crust and gently smooth it into an even layer using a spoon. Top the date filling layer with the remaining oatmeal mixture. You want 3 even layers that reach all edges and corners. Gently pat the top layer all over.
Bake for 20 to 25 minutes or until golden brown. Cool a bit before cutting into bars and serving. We like ours plain or with a scoop of vanilla ice cream.
Enjoy!
~Melissa
You may enjoy these related posts: