Print Friendly Version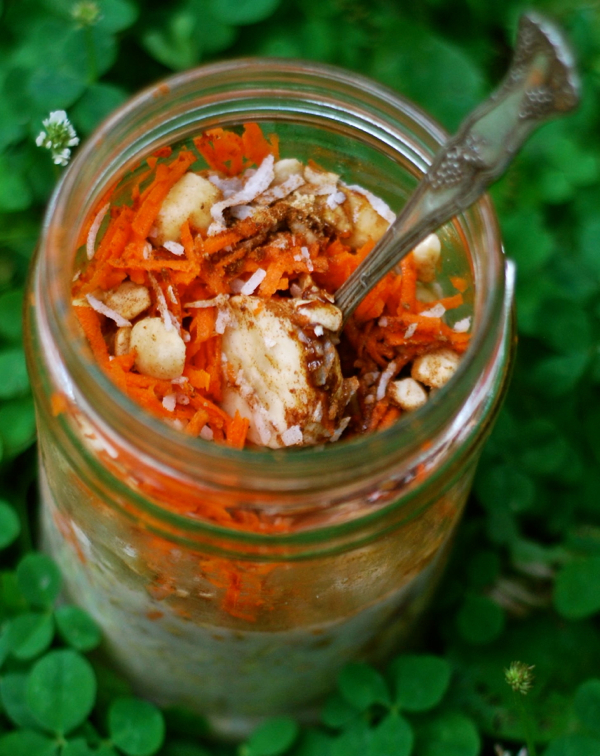 Oh yes! Last night I created another overnight oats jar and this one really turned out good. It's super healthy and the perfect way to start your day!
1 cup rolled oats (not quick cooking)
1/2 cup unsweetened vanilla almond milk
1/2 cup plain greek yogurt
1 small banana, peeled and sliced
1 smallish carrot, peeled and grated
3 Tablespoons golden raisins
2 to 3 Tablespoons chopped, fresh pineapple
2 Tablespoons nuts (I used macadamias)
1 Tablespoon sweetened, coconut
generous dash cinnamon
dash nutmeg
dash dry ginger
2 to 3 Tablespoons pure maple syrup OR raw honey
Place all ingredients in a wide mouth canning jar. Mix up well. Cover tightly. Place in refrigerator over night. In the morning, remove from fridge and top with some yummy cream cheese drizzle (optional.)
for the cream cheese drizzle:
1 Tablespoon softened cream cheese
1 teaspoon almond milk
1 teaspoon honey
1/8 teaspoon vanilla extract
Mix all in a small ramekin using a small wire whisk or fork. Drizzle over your overnight carrot cake oats!
Enjoy!
~Melissa
You may enjoy these related posts: