Print Friendly Version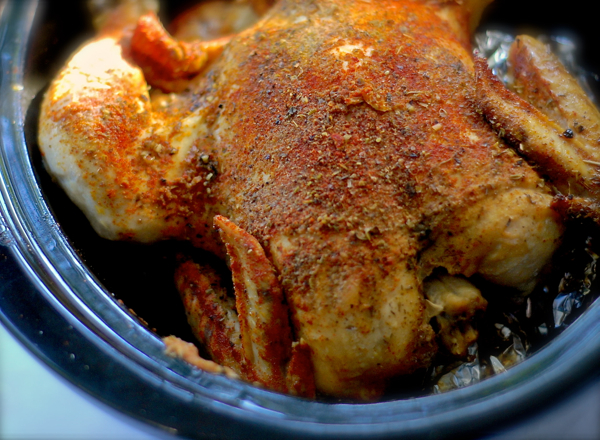 Another lovely, summertime Crock Pot recipe for you to try! This makes a wonderful, dinner when served with mashed potatoes and your favorite steamed veggies. Use the leftovers to make: tacos, chicken salad sandwiches, pot pie, white chicken chili, soup…. The possibilities are endless!
The best part about using your slow cooker in the summer is that it won't heat up your kitchen! Not to mention that you'll have more time to play outside while your Crock Pot does all the work. How awesome is that?
~ serves 6 to 8 people ~
vegetable oil (don't use butter or olive oil, they'll burn)
aluminum foil
4 to 5 lb. whole roasting chicken
1 Tablespoon onion powder
1 Tablespoon smoked paprika
1 Tablespoon dry oregano
2 teaspoons garlic powder
1 teaspoon Lawry's seasoned salt
1 teaspoon freshly ground black pepper
1/4 teaspoon cayenne pepper
Rub inside of slow cooker with vegetable oil. Tear off 8 (12 inch) pieces of aluminum foil and ball each piece up. Place foil balls in slow cooker.
Remove any giblets/neck from chicken. Rub chicken with vegetable oil. Set it inside the slow cooker on top of the foil balls. You may have to moosh it down a bit so you can fit the cover over the bird. Combine all seasonings in a small bowl. Rub chicken with all of the seasoning mixture. Don't add any water or liquid to the slow cooker.
Cover and cook on LOW for 7 to 8 hours, or HIGH for 3 to 4 hours. Cook just until chicken temperature reaches 165 degrees F. on a meat thermometer. If you cook the bird too long it could dry out.
Enjoy!
~Melissa
You may enjoy these related posts: