Print Friendly Version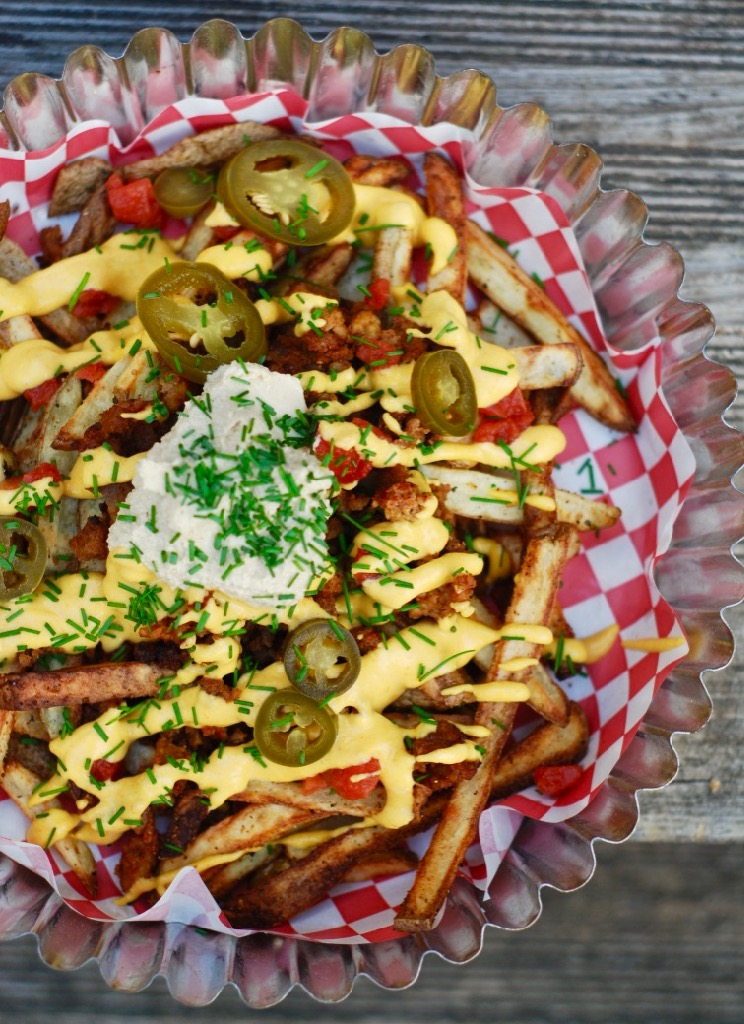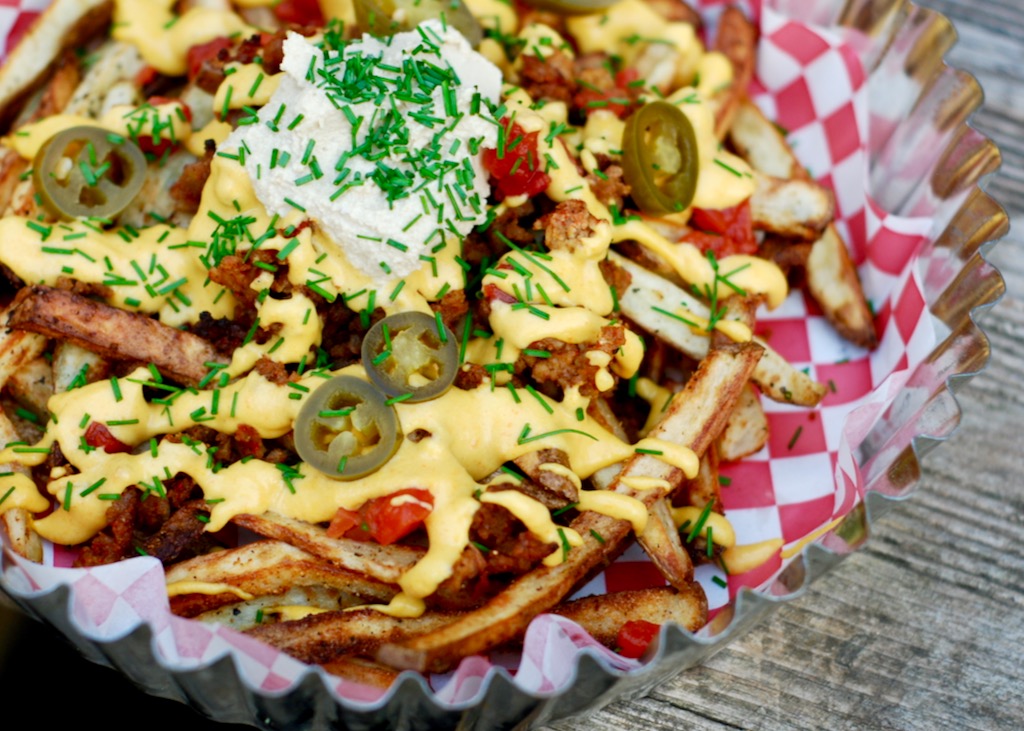 I had a craving for cheesy fries with smoky bacon (vegan, of course), and a big dollop of cashew cream on top. I've been eating a more whole foods, plant based vegan diet these days and I feel fantastic. Making my favorite foods vegan and healthy is somewhat of a challenge, but I'm having lots of fun creating them. Sometimes a recipe bombs and I'm a little disappointed, but most of the time they turn out great. This is one of those times. These fries are amazing. I only use about 1 teaspoon of olive oil to coat the fries before throwing them in the air fryer. You can use more oil if you wish. My husband makes air fryer fries almost every day and uses a bit more oil than I do, and his fries come out perfectly crispy and brown every time. The secret is to cut the fries into 1/4 inch thin strips, and then cooking them at the right temperature. I'll share how to do this below.
My vegan cheese is the same cheese I use for my nachos. It's rich, creamy, and so darn good. Use leftovers (if you have any) for mac and cheese or add it to a creamy, cheesy soup. It's best to have your cheese, bacon, and cashew cream made in advance so you can whip up a batch of these fries in minutes when the craving strikes.
for the fries:
1 BIG russet potato for each person
1 teaspoon olive oil (or more, if you wish)
salt and pepper, to taste
1/4 teaspoon garlic powder
1/4 teaspoon onion powder
1/4 teaspoon smoked paprika
Toss the fries with the olive oil until completely coated. Sprinkle the seasonings on and toss to coat. Place fries in basket of a large capacity air fryer and "fry" for 5 minutes on 360 degrees F. Toss, and repeat a few more times, until the fries are golden brown and tender. Finish off by turning the air fryer to 390 degrees F. and "fyring" and additional 2 to 3 minutes.
Plate and top with vegan nacho cheese, salsa or drained diced tomatoes, crumbled vegan tofu bacon, cashew cream, fresh chives, and pickled jalapenos. Recipes for cheese, cashew cream, and bacon, below.
for the vegan nacho cheese:
1 (12 oz.) russet potato, peeled and cut into 1 inch cubes
1 small carrot (about 1/3 cup) peeled and sliced
1/3 cup vegetable stock
3 Tablespoons light olive oil, divided
1/4 cup nutritional yeast
1 and 1/2 teaspoons apple cider vinegar
1 teaspoon sea salt
1/3 cup finely chopped onion
1 large jalapeno, seeded and finely chopped
1 large garlic clove, minced
1/4 teaspoon chipotle powder
1/4 teaspoon mild chili powder
1/4 teaspoon cumin
Place cubed potatoes and sliced carrots in a medium saucepan of boiling water. Boil until tender and easily pierced with a fork. Drain well and place in the bowl of a blender along with the stock, 2 Tablespoons of the oil, yeast, vinegar, and salt. Pulse until combined. Scrape down inside of blender. Process on high until very smooth. Transfer to a bowl with a lid. Set aside.
Place the remaining Tablespoon of oil in a skillet over medium-high heat. Saute onion and jalapeno for 3 to 5 minutes or until tender and lightly golden around edges. Add garlic, chipotle powder, chili powder, and cumin. Cook an additional minute and add this mixture to the "cheese." Mix well.
Use immediately or cool completely and place in a jar with a tight fitting lid. Will keep in refrigerator for up to a week.
for the cashew cream:
2 heaping cups raw cashew pieces (preferably unsalted)
1/2 cup water or plain, unsweetened plant milk
1 Tablespoon apple cider vinegar
1/4 cup nutritional yeast
1 teaspoon garlic powder
1 teaspoon onion powder
salt and pepper, to taste
Soak cashews over night. In the morning, drain them.
Place all ingredients in the bowl of a blender. Mix on high for about 3 minutes, scraping down sides as needed so everything gets evenly mixed. The cashew cream is done when it's very smooth. Add a little more liquid while you're blending it, if needed.
Scrape into a large, glass canning jar with a tight fitting lid. Refrigerate until ready to use. This will keep in your refrigerator for a week.
for the vegan tofu bacon crumbles:
~ preheat oven to 425 degrees F. ~
1/4 cup low sodium soy sauce
2 Tablespoons pure maple syrup
1 Tablespoon liquid smoke
2 teaspoons smoked paprika
a pinch of cayenne pepper
a few grinds of fresh black pepper
14 oz. extra firm tofu (I like Trader Joe's double protein tofu for this)
Pat the extra firm tofu dry using paper towels. Squeeze to remove excess liquid. Crumble tofu into fine crumbles using your fingers.
Mix the marinade ingredients in a small bowl with a lid. Place the tofu crumbles in the marinade and allow them to marinate for 15 to 30 minutes (or even over night.)
Line a large baking sheet with a Silpat mat or cooking parchment. Spread the tofu crumbles on the baking sheet in an even layer.
Bake 15 minutes. Toss. Bake an additional 15 minutes.
The tofu bacon should be dark and dry when it comes out of the oven, so cook it a little longer if you need to. It will crisp up a bit as it cools.
Store in airtight container in your refrigerator. This bacon will keep for up to 10 days. We love it sprinkled over salads, pizzas, and baked potatoes too!
Enjoy!
~Melissa
You may enjoy these related posts: