Print Friendly Version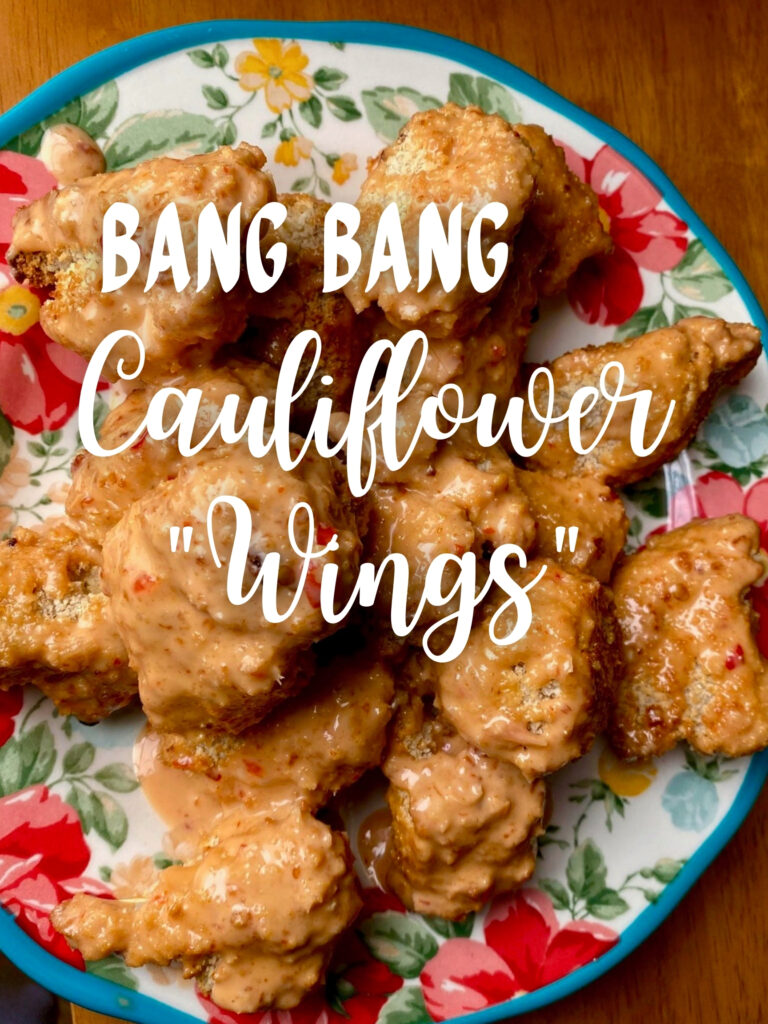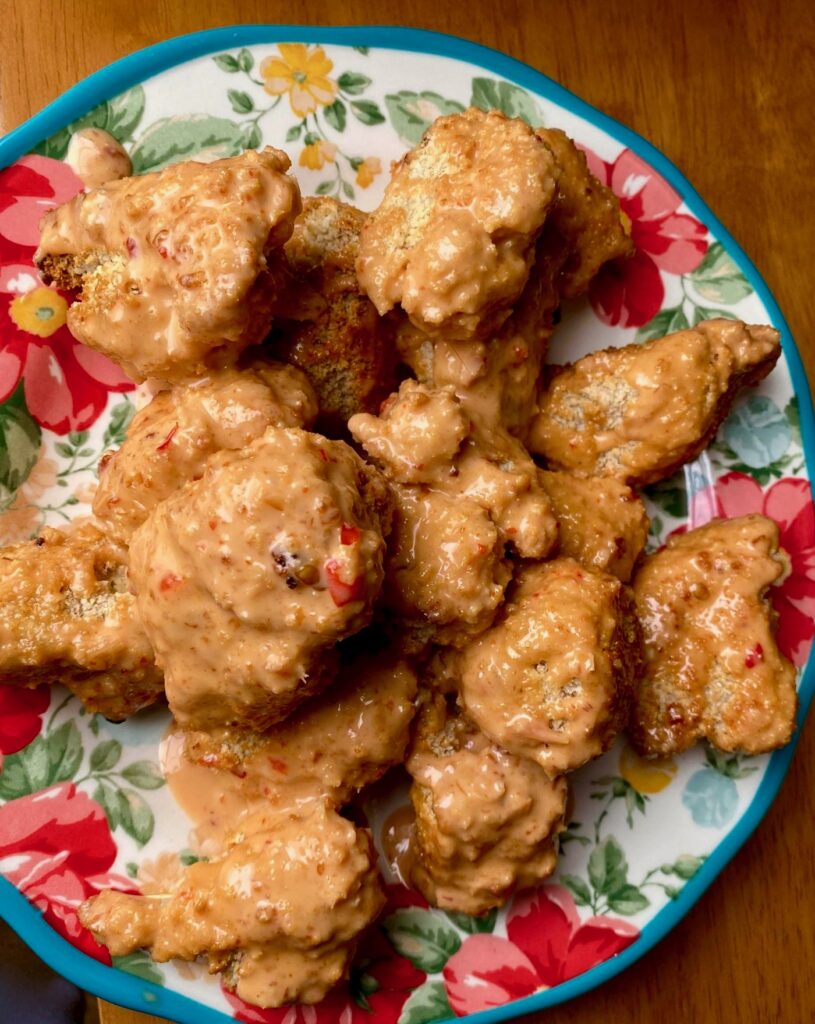 For those of you who have already tried my super crunchy cauliflower "wings", I have a treat for you! Same wings, different sauce! It's soooooo good and super addictive, so double the recipe for the cauliflower and sauce if you're making this for more than three people, or if you want leftovers. These are even delicious cold!
These would make a great addition to your game day menu!
1 large head cauliflower
1 and 1/4 cups all purpose flour
1 Tablespoon garlic powder
1 Tablespoon onion powder
1 teaspoon smoked paprika
1/4 t. cayenne pepper
1/4 teaspoon black pepper
3/4 cup unsweetened, non-dairy milk (I use almond)
water as needed to thin to desired consistency
3 cups Panko breadcrumbs
1 cup Bang Bang Sauce (recipe below)
Preheat oven to 450 degrees F. Line a large baking sheet with parchment or a Silpat mat.
Remove leaves and core from the head of cauliflower. Break into large florets and then, using a sharp knife, cut each floret down the stem (so they stay together) to the size of an average "wing." Make them as uniform in size as possible so they cook at the same rate.
Mix flour, all seasonings, and milk in a mixing bowl. Add water as necessary to achieve a thick batter that won't pool around the wings when you lay them on the baking sheet, but thin enough to slowly drip off after cauliflower is dipped. Like thick pancake batter. Place panko in a separate bowl. Dip "wings" one at a time in the batter and let the excess drip back into the bowl. Coat in panko, and then line them up on the prepared baking sheet.
Bake for 45 minutes to an hour, flipping half way through cooking process. You want the wings to be golden brown, hot all the way through, and completely set.
Remove from oven. Transfer "wings" to a big mixing bowl, and gently toss with the sauce.
Bang Bang Sauce
1/2 heaping cup vegan mayonnaise
5 Tablespoons Thai sweet chili sauce
1 Tablespoon sriracha hot sauce
1 teaspoon Sambal Oelek hot sauce
1 teaspoon lemon juice or white vinegar
salt, to taste
Place all ingredients in a small bowl, whisk until smooth. Store in airtight container in refrigerator until ready to use.
Enjoy!
~Melissa
You may enjoy these related posts: