Print Friendly Version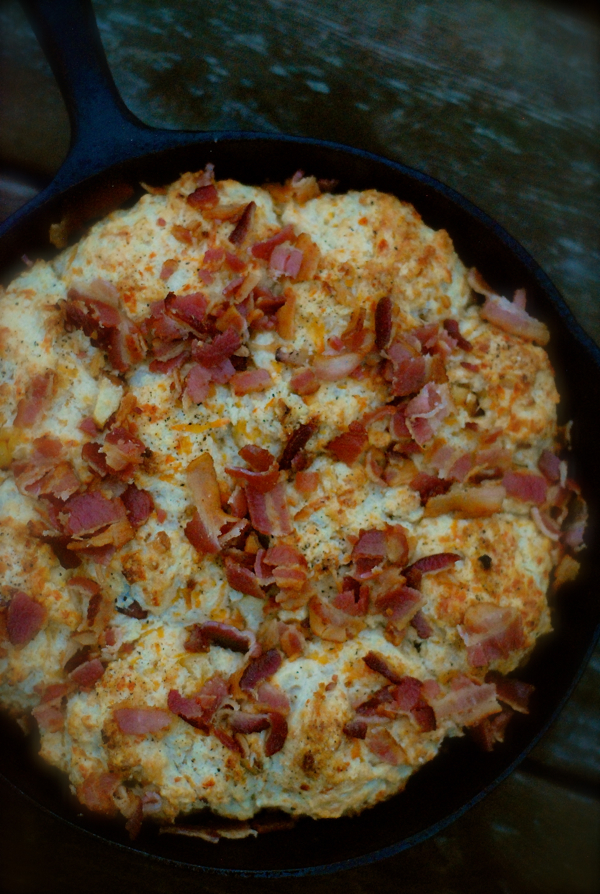 These tender, cheesy, drop biscuits are so good! We added apple and bacon, which made them totally irresistible! Loaded with flavor, simple to make, and perfect with your favorite soups, salads, and cozy comfort food dishes!
~ preheat oven to 450 degrees F. ~
1 lb. bacon, fried until crispy, crumbled
1/2 cup unsalted butter, grated
1 cup unpeeled apple, chopped
2 and 1/2 cups all purpose flour
2 and 1/2 teaspoons baking powder
2 Tablespoons sugar
1 teaspoon salt
1/2 teaspoon onion powder
1/2 teaspoon baking soda
1/2 teaspoon freshly ground black pepper
1 and 1/2 cups shredded sharp cheddar cheese
1 cup buttermilk
Fry bacon in a 10 inch cast iron skillet, until crispy. Remove from skillet. Cool and then crumble.
Remove all but 2 Tablespoons of bacon drippings from pan. Saute apples in bacon drippings until golden brown (approximately 5 minutes.) Remove from pan. Cool completely.
In a medium bowl, mix flour, baking powder, sugar, salt, onion powder, pepper, and soda. Using your fingers, rub cold, grated butter into the flour mixture until crumbly. Stir in cheese. Once combined, add the buttermilk and apple. Stir until just combined and evenly moistened. Drop dough into 12 equal biscuit mounds in the same skillet you fried the bacon and apples in.
Bake until golden brown and set, approximately 18 to 20 minutes. Cover with foil halfway through cooking time to prevent biscuits from getting too brown, if necessary. Drizzle biscuits with a little melted butter, and garnish with the fried, crumbled bacon.
These are SO good with soup, and with breakfast eggs!
Enjoy!
~Melissa
You may enjoy these related posts: