Print Friendly Version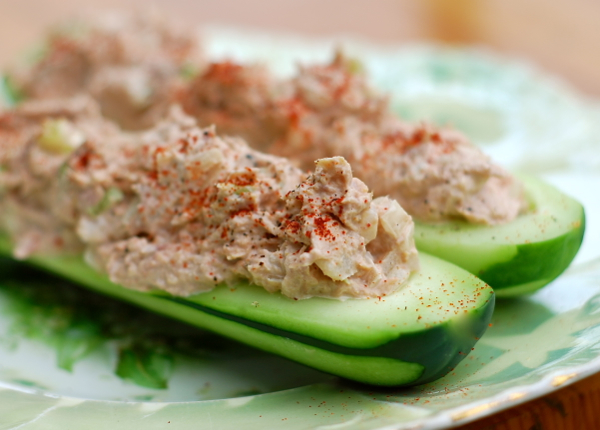 Trying to eat healthy, and still serve delicious meals and snacks? Here's a great little trick: Make cucumber boats for your sandwich salads instead of serving them on bread. We love how refreshing and light cucumber boats are, and they go great with almost any mixed salad.
Above I've shown some cucumber boats topped them with a simple, classic tuna salad (recipe below), but you could use: Amish Tuna Egg Salad, Cream Cheese Seafood Salad, Cream Cheese Egg Salad, Ham Salad, Smoked Almond Chicken Salad, Dilly Egg Salad, Guacamole Chicken Salad, or Carrot Cheddar Curry Salad… The possibilities are endless! Make up a bunch featuring your favorite salads for your next gathering.
simple tuna salad cucumber boats (pictured above)
serves 2 to 4 people
2 cucumbers, peeled or unpeeled (or peeled in "stripes" using veggie peeler)
2 cans of your favorite tuna, drained well (we love Wild Planet)
1/4 cup real mayonnaise (or more, to taste)
1 Tablespoon Dijon mustard
1 rib celery, chopped
1/4 cup onion, chopped
1 small clove garlic, minced
1 teaspoon smoked paprika (plus more for garnish)
salt and pepper, to taste
Peel cucumbers (or don't.) Carefully cut cucumbers in half lengthwise. Remove seeds with a spoon and pat the cucumber boats dry using paper towels. Set aside.
In a medium mixing bowl, combine: drained tuna, mayonnaise, Dijon mustard, celery, onion, garlic, and smoked paprika. Mix well. Salt and pepper to taste. Pile salad into the cucumber boats and garnish with a little more smoked paprika. Serve.
Enjoy!
~Melissa
You may enjoy these related posts: