Print Friendly Version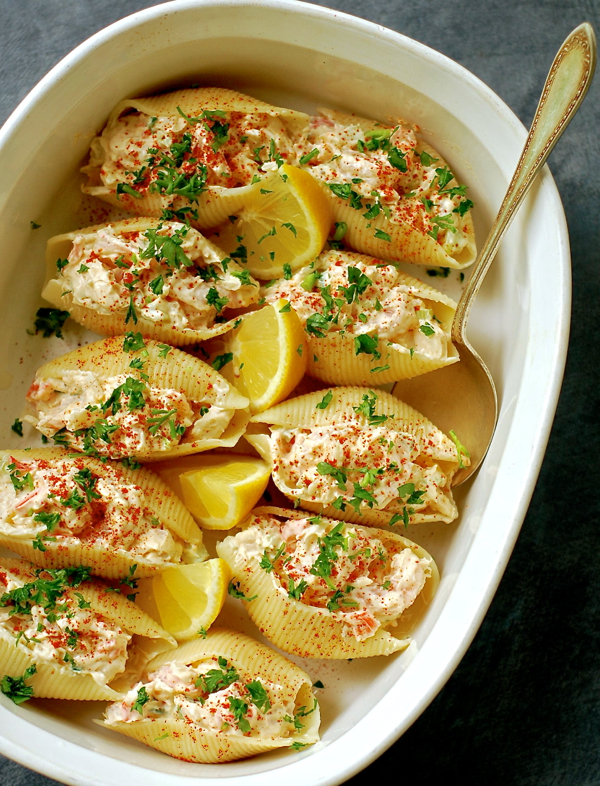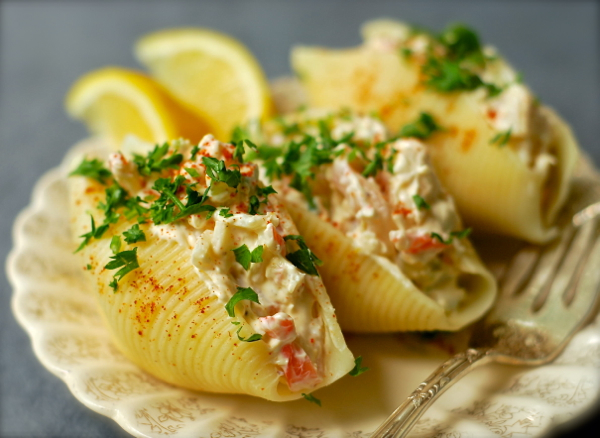 Tracy, one of my best friends, made the trek down to Red Wing from the Twin Cities to see me yesterday. We had such a wonderful time catching up!
We shared a pot of English Breakfast tea and then took a stroll downtown Red Wing and did a little boutique, gift shop, antique and thrift store shopping where we found a few treasures (mainly in the form of teacups, candles and glassware.)
At around noon we started to get hungry, and the sky was threatening to rain, so we headed back to my place. We lit a bunch of candles, opened up a bottle of this awesome wine that Tracy brought, and had an amazing lunch that I had prepared earlier in the day.
I made these ultra-creamy, cold seafood salad stuffed pasta shells that were out of this WORLD! I know I'm patting myself on the back when I say that, but I can't help it 🙂 They were SO SO good, and I'll definitely be making them again in the near future. This dish is perfect for a summer lunch on the deck with friends, as a tea party entree, or as a fancy, girlfriends' wine lunch for two.
If stuffing the jumbo pasta shells seems a bit tedious, or if you'd like to serve something more casual for a potluck or a picnic, then just mix up the seafood salad and add 12 oz. of the small shell pasta, (cooked according to package directions, drained well and chilled completely.) Either way, you're going to love this rich, amazing dish!
This recipe makes a lot, so feel free to cut in in half, if you like.
makes approximately 3 dozen stuffed shells:
~ serves approximately 10-12 people, 3 shells per person ~
12 oz. jumbo pasta shells
2 (8 oz.) packages Neufchatel cheese, softened (no substitutes)
2/3 cup real mayonnaise (no substitutes)
2 teaspoons sugar
juice of 1/2 juicy lemon
2 Tablespoons milk
3 teaspoons fresh lemon zest
1 teaspoon reduced sodium Old Bay seasoning (or more, to taste)
1 Tablespoon Dijon mustard
1/4 teaspoon white pepper
1/8 teaspoon cayenne pepper (or more, to taste)
18 oz. fresh, chopped crab meat (or imitation crab meat)
1 lb. cooked cold shrimp, (deveined, shells and tails removed, blotted dry)
3 large green onions + green tops, chopped
1/2 cup to 1 cup chopped celery
lemon wedges
cayenne pepper (for sprinkling over top)
fresh chopped parsley
Sriracha hot sauce
Make pasta according to package directions. Rinse under cold water until cool to the touch. Drain each shell very well (I invert each one in rows on paper towels so they can dry completely and cool to room temperature before I fill them.)
Blot fish with paper towels. In the bowl of a counter top mixer, combine: Neufchatel cheese, mayonnaise, sugar, lemon juice, lemon zest, Old Bay, Dijon mustard, white pepper, and cayenne. Using the whisk attachment, mix until smooth and well combined. Thin with a little more lemon juice and/or milk, if needed. Set aside.
In a large mixing bowl, combine the cooked, blotted fish, green onions and celery. Transfer the Neufchatel mixture to the bowl with the seafood. Gently fold the creamy mixture into the fish until evenly combined. Stuff pasta shells with the seafood salad (approximately 2 heaping Tablespoons each), lining up the stuffed shells in baking dishes as you go. Once all shells are stuffed, or you've used up the seafood salad (whichever happens first) garnish tops of shells with a light sprinkling of cayenne pepper and fresh, chopped parsley. Cover and chill in refrigerator until ready to serve. (These are best when served within a few hours of making them, but can be served within 24 hours if you have to make them in advance.)
To serve: Place 3 stuffed shells on each plate. Serve with lemon wedges for squeezing over shells and Sriracha hot sauce for a delicious, zesty kick!
Enjoy!
~Melissa
You may enjoy these related posts: