Print Friendly Version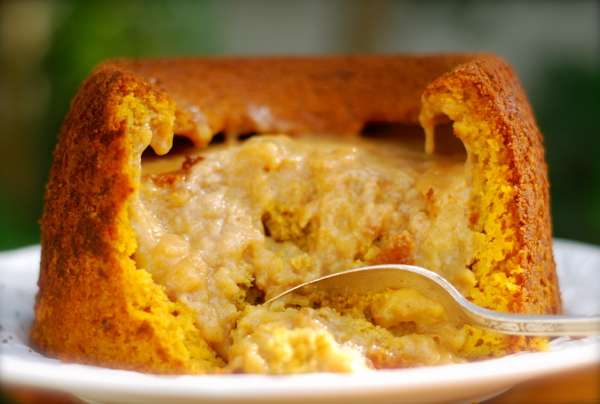 This gorgeous cake was inspired by my recipe for Slow Cooker Chocolate Lava Pudding Cake! I decided to try something new for autumn, and since pumpkin spice is always a winner this time of year, that's what I went with. It's so delicious and so simple to prepare!
Oh. MY. YUM! Pumpkin Lovers, rejoice! This tender, moist pumpkin spice cake has a warm, gooey, vanilla pudding and white chocolate center. It's fabulous served cold too! Don't forget the cinnamon ice cream for presenting this dessert "a la mode." Yum!
1 (15 oz.) boxed white cake mix
2 teaspoons pumpkin pie spice, plus more for sprinkling
1 cup 100% pure pumpkin puree (not pie filling)
2/3 cup water
3 large eggs, lightly beaten
1/3 cup vegetable oil
2 cups whole milk
1 (3.9 oz.) instant vanilla pudding mix
1 cup white chocolate chips
1/8 teaspoon salt
Grease the inside of a 4 quart Crock Pot with vegetable oil (don't use olive oil or butter because they will cause your cake to burn.)
In a large bowl, combine: cake mix, pumpkin pie spice, pumpkin, water, eggs, and oil. Beat for two minutes (by hand is fine, or you can use an electric mixer.)
Pour cake batter into prepared slow cooker.
In a medium bowl, combine: vanilla pudding mix and milk. Whisk two minutes. Allow to stand to minutes to thicken. Spoon pudding over cake batter in slow cooker. Top with the white chocolate chips, salt, and a little more pumpkin pie spice.
Cover slow cooker and turn it to the HIGH setting. Cook for 3 to 4 hours or until completely set. Cake will appear glossy on top, but it shouldn't be wet.
Once done, unplug slow cooker, remove crock from heating element, and allow to cool for at least a half hour before gently running a butter knife along the edge of the cake, carefully transferring to a plate, and cutting.
Serve each piece with some of the pudding from the middle of the cake.
Enjoy, and Happy Autumn!
~Melissa
You may enjoy these related posts: