Print Friendly Version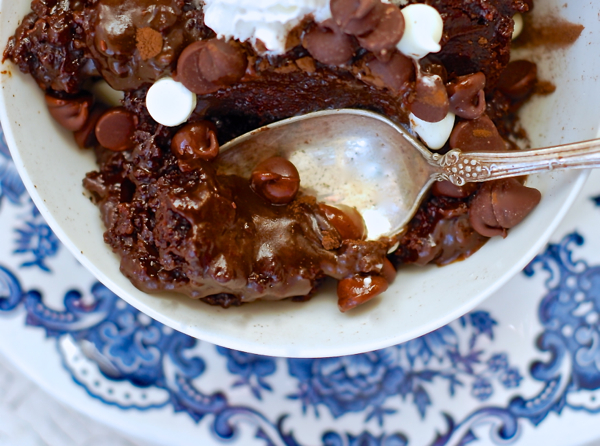 "Let's face it, a nice creamy chocolate cake does a lot for a lot of people; it does for me." ~ Audrey Hepburn
This gorgeous, decadent, gooey, chocolate loveliness would be the perfect grand finale to any meal. It's ridiculously rich, and pairs well with your favorite red wine or port. The Crock Pot/slow cooker makes this dessert super easy to prepare. Don't be tempted to tell your guests. They'll think you've been slaving away in the kitchen all day. Your secret is safe with me!
It's important to use the right size slow cooker for this recipe. If you only have a 7 or 8 quart slow cooker, you can double it, but it will a LOT, so plan accordingly. This scenario would be perfect for a potluck or church supper.
Oil a 4 quart slow cooker using vegetable oil or canola oil. Don't use butter or olive oil or it will burn.
~ serves 12 ~
1 box devil's food chocolate cake mix (I used Pillsbury)
1 and 2/3 cup water
3 large eggs, lightly beaten
1/3 cup vegetable oil
2 cups whole milk
1 (3.9 oz.) box instant chocolate pudding mix
2 cups dark chocolate chips OR semi sweet chocolate chips
In the bowl of a counter top mixer, combine: the cake mix, water, eggs and oil. Beat on medium speed, using the whisk attachment, for 2 minutes. Transfer to prepared slow cooker.
In another bowl, combine the milk and instant pudding. Mix for 2 minutes. Allow to set for an additional 2 minutes. Spoon over the cake batter in the Crock Pot. Sprinkle the chocolate chips over the top of everything. Cover slow cooker and cook on the HIGH setting for 3 to 4 hours (mine was done at the 3 hour mark.) Cake is done when it's still a bit glossy on top and completely set. It will still be very moist, and the center will be hot and custardy in places.
Scoop into pretty serving dishes and top with vanilla ice cream or sweetened whipped cream, white chocolate chips, dark chocolate chips, and a dusting of cocoa powder, if you wish.
Enjoy!
~Melissa
You may enjoy these related posts: