Print Friendly Version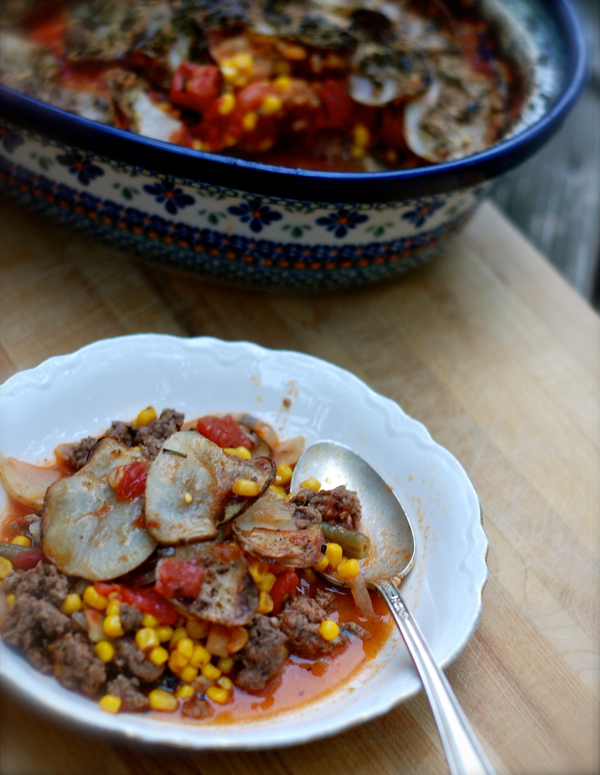 This is an old fashioned hot dish recipe that I found in a big Ziploc bag full of hand lettered recipe cards that my grandma gave to me (thus the name). This is down home, simple, frugal, comfort food. It's wonderful served with warm, toasted, buttered baguette for mopping up the brothy juice.
In a buttered, 4 quart casserole, layer ingredients in the following order:
~ preheat oven to 350 degrees F. ~
~ 1 large, chopped onion
~ 2 large garlic cloves, minced
~ thinly sliced, unpeeled russet potato
~ 1 lb. lightly browned, lean ground beef
~ 1 (15 oz.) can sweet corn, drained well
~ 1 (15 oz.) can petite diced tomatoes, undrained
~ 1 (15 to 16 oz) can chunky vegetable soup (I used Progresso Vegetable Barley)
~ another layer of thinly sliced, unpeeled russet potatoes
~ Rinse soup can with 2 Tablespoons white wine, pour over everything
~ Dot top with 2 Tablespoons real butter, cut into chunks
~ salt and pepper
Bake in preheated oven for 1 hour to 1 and 1/2 hours.
Scoop into shallow bowls.
Enjoy!
~Melissa
You may enjoy these related posts: