Print Friendly Version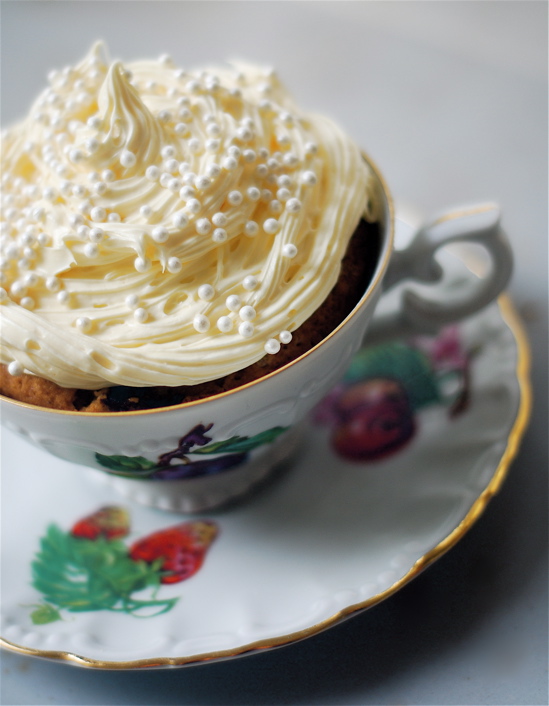 I had my younger brothers over for coffee today and they each plowed through two of these teacup cakes and made lots of yummy noises…so I believe this passes as one of those "good enough to post on the blog" recipes. hee hee 😉
The browned butter really brings these little cupcakes up a notch, so don't be tempted to skip that part.
~ preheat oven to 350 degrees F ~
1/2 cup browned butter
1 cup white sugar
1/2 cup brown sugar
2 eggs
1 cup buttermilk
1 teaspoon pure vanilla extract
2 cups all-purpose flour
1 teaspoon baking soda
1/2 teaspoon baking powder
1 teaspoon salt
1 teaspoon cinnamon
1 teaspoon ginger
1/2 teaspoon cloves
2 small plums, peeled and coarse chopped
20 black cherries, pitted and coarse chopped
Place butter in a skillet over low heat and stir occasionally until a golden amber color. Set aside to cool a bit and then mix with the sugars, eggs, buttermilk and vanilla.
In a separate bowl, combine the flour, baking soda, baking powder, and spices. Mix the wet and dry ingredients together just until everything is incorporated and combined. Gently fold in fruit. Divide batter evenly among 12 muffin tins lined with cupcake liners or generously buttered.
Bake for 40-45 minutes or until a toothpick inserted into the cupcakes comes out clean. Cool in pan for 15 minutes. Remove cupcakes to a rack to cool completely before frosting with your favorite fluffy buttercream!
Add pretty sprinkles and serve in your prettiest teacups!
Enjoy!
~Melissa
You may enjoy these related posts: