Print Friendly Version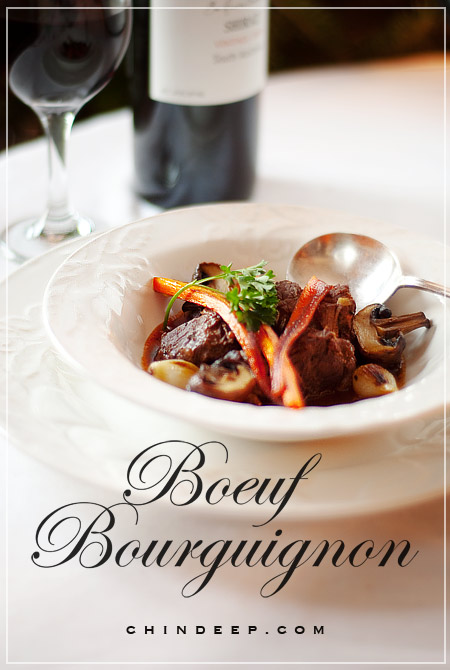 "Cooking is not a particularly difficult art, and the more you cook and learn about cooking, the more sense it makes. But like any art it requires practice and experience. The most important ingredient you can bring to it is love of cooking for it's own sake." ~Julia Child, Louisette Bertholle and Simone Beck
Hello Friends! We're experiencing cold temperatures and lots of snow here in Minnesota. The perfect time to indulge in cooking and eating comfort food, wouldn't you agree? What could be more comforting than a really good beef stew? Jeff surprised me with the two volume set of Mastering the Art of French Cooking and the big 6 quart dutch oven I've been wanting for quite some time. We love cooking together and are planning on cooking our way through the books over the next year, but at a more leisurely pace than Julie Powell. She amazingly took on the herculean task of cooking each and every recipe from these books in one year and succeeded. Kudos Julie! We're skipping the aspics and brains 😉
Recently, the movie Julie & Julia inspired me to cook up a pot of Julia Child's classic Boeuf Bourguignon . I have made the recipe at least a half dozen times, but every time I pop the movie in the dvd player I inevitably find myself at the market within a few days piling chuck roast, fresh mushrooms, vegetables and bacon into the cart.  The recipe is surprisingly simple, but it does take a lot of time to prepare. Don't make this if you are impatient or short on time. Each step of the recipe is vital to the end result, which is a fragrant, thick, rich beef stew unlike any other.
~Boeuf Bourguignon~
preheat oven to 450 degrees F

yield: 6 servings
materials needed: a 6 quart, oven proof casserole with a lid or a Dutch oven
1 lb. bacon
1 Tablespoon olive oil
4 lb. chuck arm roast cut into 2 inch cubes
3 sliced carrots
1 large sliced onion
1 teaspoon salt
1/4 teaspoon freshly ground pepper
2-3 Tablespoons flour
3 cups Burgundy wine or Chianti
2-3 cups brown beef stock or canned beef broth
1 Tablespoon tomato paste
2 large cloves fresh, minced garlic
1/2 teaspoon dried thyme
2 crumbled bay leaves
24 pearl onions, peeled and brown-braised in stock
1 lb quartered fresh mushrooms sauteed in butter in small batches (we use Baby Bellas)
To prepare:
In a large, oven-proof, Dutch oven: fry bacon until just crispy. Remove to a side dish with a heat-proof slotted spoon. Remove bacon drippings from heat and set aside. Dry the beef cubes in paper towels; it will not brown properly if it's damp. Heat bacon drippings until almost smoking. Saute beef cubes, a few pieces at a time,  in drippings until nicely browned on all sides. Add it to the plated bacon.
In the same fat, brown the sliced carrots and large, sliced onion. When vegetables are browned, pour out any excess fat. Return the beef and bacon to the Dutch oven. Toss with the salt and pepper. Sprinkle on the flour and toss again to coat the beef evenly and lightly with the flour. Set the Dutch oven, uncovered, in the middle position of the pre-heated oven for 4 minutes. Toss the meat, and return to the oven for an additional 4 minutes. (This browns the flour and covers the meat with a light crust.) Remove the Dutch oven, and turn the temperature down to 325 degrees F.
Stir in the wine and enough beef stock or broth so the meat is barely covered. Add the tomato paste, garlic and herbs. Bring to simmer on top of the stove. Then cover the casserole (Dutch oven) and set in lower third of pre-heated oven. Regulate heat so liquid simmers gently for 3 hours. The meat is done when a fork pierces it easily.
While the beef is cooking, prepare the onions and mushrooms. Set them aside until needed.
When the meat is tender, pour contents of the casserole into a sieve set over a large soup pot. Wash out the casserole and return the beef and bacon to it. Pour cooked onions and mushrooms over the meat.
Skim fat off sauce. Simmer sauce for a minute or two, skimming additional fat as it rises. You should have about 2 and 1/2 cups of thick sauce that will coat a spoon lightly. If too thin, boil it down rapidly. If too thick, mix in a few Tablespoons stock or canned broth. Taste carefully for seasoning. Add meat and vegetables to pot.
To serve:
Cover the casserole and simmer for 2-3 minutes. I like to serve the "stew" over boiled, red bliss potatoes. I garnish each serving with a sprig of fresh parsley.
Bon Appetit!
~Melissa
You may enjoy these related posts: