Print Friendly Version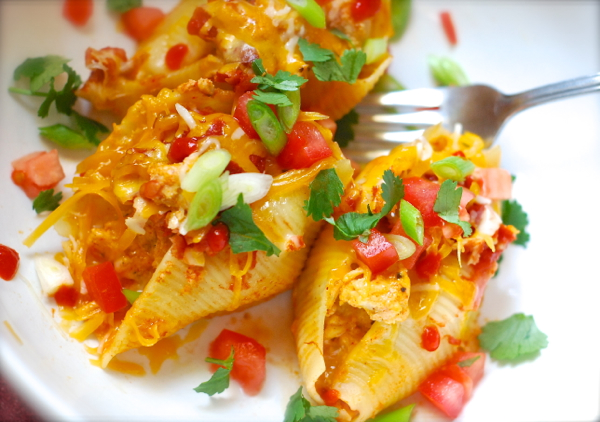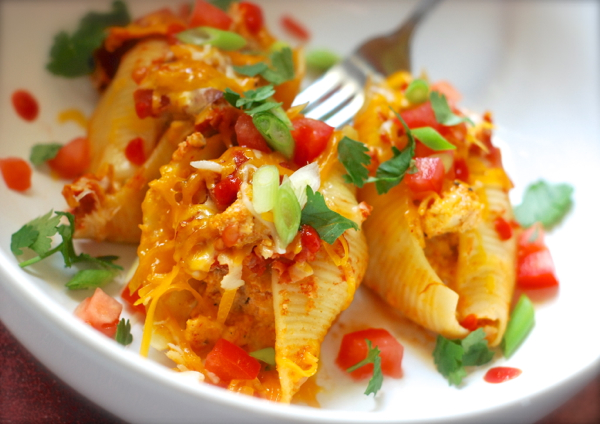 So you already know I'm a taco fanatic, right? I've talked about this to the point where you're probably bored of hearing it. I am though! I love them. I also love pasta. Being Italian, I happen to adore all things Italian. So, of course I tried to figure out how to create the best of both worlds and put them into one yummy dish.
Yesterday I got to work in the kitchen and OH MY GOSH are you in for a treat! Cheesy Chicken Taco-Stuffed Pasta shells are the stuff dreams are made of. Well, my dreams anyway. This was one of those times where I surprised myself. Every time I took a bite I thought, "I MADE that!" Hee hee… Hope you love these as much as my family does.
~ preheat oven to 350 degrees F. ~
serves approximately 8-10 people
2 large boneless skinless chicken breasts, cooked, cooled, and chopped
1/2 cup yellow onion, chopped fine
1 large clove garlic, minced OR 1 teaspoon garlic powder
15 oz. whole milk Ricotta cheese
1 Tablespoon cumin
1 Tablespoon oregano
1 Tablespoon chili powder
2 teaspoons smoked paprika
1/2 teaspoon cayenne pepper
8 oz. shredded cheddar cheese, divided
8 oz. shredded Mozzarella cheese, divided
2 large eggs, lightly beaten
12 oz. jumbo pasta shells, cooked according to package directions
24 oz. jar of your favorite thick, chunky salsa
Chop or shred the fully cooked, cooled chicken and place it in a large mixing bowl.
Saute onion in 2 teaspoons olive oil. Set aside to cool a bit and then add it to the chicken in the bowl along with the garlic, Ricotta, cumin, oregano, chili powder, paprika, cayenne, half of the cheddar, half of the Mozzarella, and the eggs. Mix well.
Cook pasta according to package directions. Once done, drain and run under cold water until cool enough to handle. Drain well again.
Grease a 15×10 glass baking pan. Using the cheese/chicken mixture, stuff shells until you run out of filling. You'll probably end up with more shells than filling. Line up stuffed shells in prepared pan. Top shells with the whole jar of salsa. Cover pan tightly with foil and place in preheated oven. Bake for 50 minutes.
Once shells are done cooking, remove them from oven, uncover, and allow them to sit for 15 to 20 minutes before serving. There may be some liquid in the bottom of the pan. Don't worry. As the shells rest, they'll reabsorb most or all of the liquid.
Serve and top with your favorite taco toppings. We used: the reserved, shredded cheese, chopped green onion, cilantro, chopped tomatoes, and hot sauce. Other yummy toppings: chopped avocado, sour cream, chopped jalapeno peppers, shredded lettuce, and cooked black beans.
Enjoy!
~ Melissa
You may enjoy these related posts: