Print Friendly Version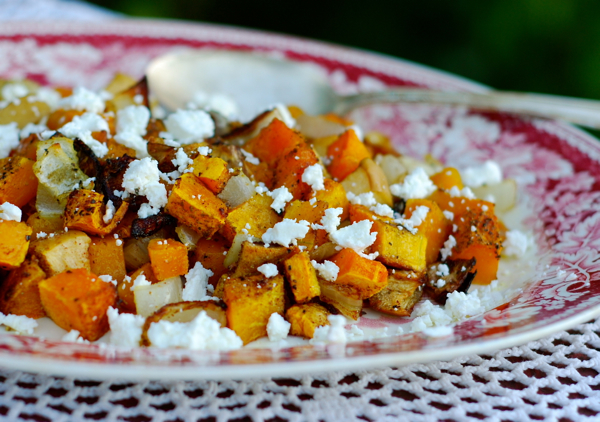 Oh my goodness! This is definitely my new favorite way to make butternut squash! The apples and onions melt around the squash as it roasts, creating a delicious, sweet, sort of caramelized coating that really brings out the flavor of the squash. And then, to offset the sweetness, I add a sprinkling of crumbled goat cheese and a drizzle of this tangy, cider vinaigrette that will make you swoon! So delicious!
You could easily substitute sweet potatoes, or cubed pumpkin for the butternut squash, if you wish!
for the melted apple squash:
~ preheat oven to 375 degrees F. ~
5 cups peeled and seeded butternut squash, 1/2 inch cubes
2 large, tart orchard apples, cored, unpeeled, cubed
1 medium onion, chopped
1 teaspoon garlic powder
1 teaspoon pumpkin pie spice
1/2 teaspoon fresh thyme leaves
1/4 teaspoon ground sage
1/4 cup olive oil
Place all in a large mixing bowl and toss until evenly coated. Transfer to a large, lipped, metal baking tray lined with parchment. Bake in preheated oven for approximately 45 minutes, or until squash is tender and apples and onions are soft and sort of caramelized. Transfer to a large, pretty serving tray.
Sprinkle with crumbled goat cheese and the cider vinaigrette (recipe below.)
for the cider vinaigrette:
1 shallot, minced fine
1 Tablespoon Dijon mustard
2 Tablespoons pure maple syrup
1/3 cup raw apple cider vinegar (or regular apple cider vinegar)
2 Tablespoons extra virgin olive oil
salt, to taste
a dash or two of cayenne pepper
Place all in a jar. Cover tightly. Shake until well combined and dressing is emulsified.
Enjoy!
~Melissa
You may enjoy these related posts: